The Koch Brothers have decided against buying the Tribune Company's newspapers, WHEW!
After conducting due diligence, Koch Industries has concluded the purchase is not "economically viable," a reliable source told The Daily Caller.
For the past four months, they have been considering a bid for Tribune's eight regional papers, which include the Los Angeles Times, Chicago Tribune, Baltimore Sun and the Orlando Sentinel. The Tribune Company put the papers up for sale at the end of 2012.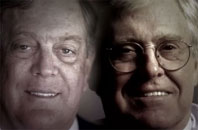 But they could well be back. "Koch continues to have an interest in the media business and we're exploring a broad range of opportunities where we think we can add value. In terms of the Tribune, the Daily Caller story is accurate," Melissa Cohlmia, a Koch Industries spokeswoman, told Politico.
The three legs of the Koch Bros strategy for a small government with much less regulation and lower taxes are:
1. Educating grass-roots activists
2. Influencing politics
3. Media
"The infamous Koch Brothers decided it isn't worth their while to buy a bunch of newspapers that people would boycott. Now they will have to find some other vehicle for peddling their special brand of anti-worker, climate-denying hogwash," exclaims Senator Elizabeth Warren (D-MA).
They also faced furor on the part of the papers' employees. About half the staff at the Los Angeles Times pledged to quit their jobs and protests were planned. The Hartford City Council passed a resolution this month opposing the sale of the Hartford Courant, another newspaper in the deal.
"An alternate buyer for the papers hasn't been announced, but I'll keep my eyes and ears open and continue to push for either a crowd-funded effort or an ethical business or investor group to take over the papers. These publications are too valuable to let fall into the wrong hands," Warren says.
Their new dark money group, the latest of many, continues. The Association for American Innovation is an an umbrella group that receives dark money and doles it out to its other dark money nonprofits.
(Visited 8,850 times, 1 visits today)