Shares of Tesla Motors (Nasdaq: TSLA) hit another
record high today, after NASDAQ announced it would join the NASDAQ-100 index.
Tesla, the best performing automaker this year, has seen its shares jump to $125, up 259% so far in 2013.
Yesterday NASDAQ announced Tesla would replace Oracle Corp.
in the index as of July 15th. Oracle is moving from Nasdaq to the New York Stock Exchange.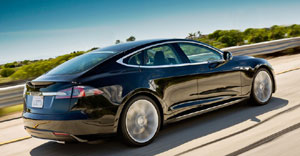 This will push Tesla's stock up even further. Once Tesla joins the NASDAQ-100, tracking funds that invest in the index will be required to buy its stock. There are some $49.4 billion of exchange-traded funds and other investment products linked to
the index, Nasdaq says.
"It's a coming of age, recognition that a company has market cap and liquidity," Sandy Mehta, CEO of Value Investment Principals in Hong Kong, told Bloomberg. "Once the stock joins the index, you will have some buying."
Earlier this year, Tesla reported its first quarterly profit, triggering a share price rally.
The electric carmaker reported more good news this week – stronger than expected sales in Hong Kong, where it has received hundreds of orders for its Model S sedan.
Tesla has forecast Model S sales will reach 21,000 units this year, with deliveries to Europe and Asia beginning in the second half. The Model S starts at $69,900, and is Tesla's second vehicle after stopping production of its much more expensive$109,000 Roadster.
The company is continuing to innovate, recently unveiling plans for a network of battery swapping stations in addition to its US-wide solar powered battery charging stations.
(Visited 4,849 times, 7 visits today)