Texas A&M University-Central branch is creating what it says will make it the world's first all-solar university.
800 acres of unused land is being made available to manufacturers to test and prototype hundreds of solar technologies.
The $600 million Center for Solar Energy will produce 50 megawatts (MW) of energy, enough to supply 100% of the university's power. The excess, expected to service another 20,000 homes, will be sent back to the grid. Fort Hood – the largest active duty military campus in the US – will also receive electricity from the farm, helping it become the first base to run on 30-40% renewable energy.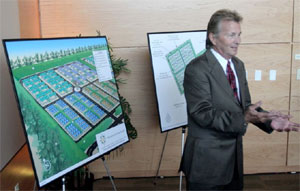 "The Center will host the largest assortment of photovoltaic technologies in the world and serve as a true test site for leading-edge technologies, leading to thousands of clean energy jobs in Central Texas," the university says.
The university describes the center as "an incubation program," – the idea is to attract investors to new solar technologies and bring them to market. New curriculum offerings will also encourage research and development.
They've got big aspirations. If they can get about 100 manufacturers and solar technology developers on-board, over 5-6 years that could draw in $400-$500 billion for research, reports Daily Tech. By concentrating expertise on solar in this one Center, a product that would typically take six years to develop, could be fully tested in only two years.
Venture capital firms are expected to chip in to build the Center because they will benefit from technologies developed there. In fact, the university plans to save $250,000 in its first year of operations, rather than having to put out any money.
"The collaboration between A&M-Central Texas and the Center for Solar Energy is truly a market-changing partnership and will make A&M-Central Texas the premier destination for the study and advancement of solar energy," says John Sharp, Chancellor of Texas A&M University.
The project is being built in stages, or "blocks", in partnership with renewable energy company PPA Partners, which has developed a similar, smaller project at Arizona Western College.
Texas A&M received grants under the 2009 Recovery Act for a combined heat and power plant that now powers the College Station campus, and to train building equipment technicians to deploy energy-efficient technology.
Read more about the center here:
Website:
[sorry this link is no longer available]
(Visited 4,956 times, 4 visits today)