Two major financial institutions and a church are the latest institutions to announce their divestment from fossil fuel investments.
Dutch bank Rabobank – the country's largest – is taking a strong stand against natural gas fracking. Not only will it not lend money to companies involved in natural gas fracking, it also will not give loans to farmers who rent their land to those companies.
The bank says the risks – both financial and environmental – are just too great and it does not want to contribute to energy which it believes to be polluting.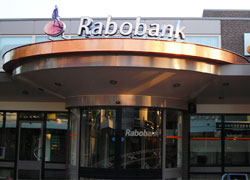 Meanwhile, in Norway, Storebrand – a major pension fund and life insurance firm, has pulled investments from 13 coal producers and the six oil companies most heavily involved in tar sands.
The move is intended to "reduce fossil fuel and carbon dioxide exposure and ensure stable long-term returns," says Christine Tørklep Meisingset, head of sustainable investment at Storebrand.
"As stated climate goals [of the need to stay below a 2 degree C rise in temperature] become reality, these resources are worthless financially, but it is also true that they do not contribute to sustainable development in the extent and the pace we want," she says.
And in the US, the United Church of Christ passed a resolution that sets a "strategy to attack climate change," including a path to divest from fossil fuel companies. The church says it is the first major religious body in the US to vote for divestment.
It calls for enhanced shareholder engagement with fossil fuel companies, an intensive search for fossil fuel-free investment vehicles, and the identification of 'best in class' fossil fuel companies by 2015.
The same day, the Church passed a resolution calling for its to be become carbon neutral, starting with energy audits for the nearly 5,200 US congregations.
Bill McKibben's 350.org is leading the campaign to divest from fossil fuels, starting with college campuses and spreading to the investments held by cities and other institutions, such as churches.
The campaign argues that valuations of coal, oil and gas companies are largely based on enormous reserves of fossil fuels which simply cannot be burned if the world is to avoid more than 2°C of global warming. Those reserves will, at some point, have to be written off, destroying huge amounts of value in the world's listed fossil fuel companies.
(Visited 8,662 times, 4 visits today)