US solar companies are more often turning to the Web to streamline customer acquisition and cut costs throughout the installation process.
It's the next step in lowering the cost of residential solar.
Buying a solar system is looking more like purchasing any other retail product on the Web. Prospective buyers can compare installers and prices online, and installers no longer have to visit a home to determine if the roof is appropriate for solar or how much power can be produced.
Sungevity, for example, uses satellite images to design rooftop installations and offers free price quotes through its website or through partners like Lowes and Sierra Club. This has helped drive down site-evaluation costs from about $3,000 to a mere $100.
Proprietary software makes it easy for customers to refer friends and family. As a result, most new customers come from referrals. And by working through local installation partners, costs dropped 30% in 2012.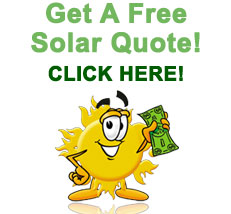 Last year, the Department of Energy gave EnergySage a $500,000 grant under its SunShot initiative to develop and implement a one-stop-shop web-based solar PV comparison-shopping platform.
It allows commercial and residential property owners to solicit multiple price quotes from an extensive list of pre-screened, high-quality solar PV installers.
In the past, residential solar companies spent about $8,000 to acquire each customer, Sungevity CEO Andrew Birch told Bloomberg. Now they average $2,000 to $3,000 across the industry.
"Simplifying the sales process will boost orders and drive down the cost of landing new customers, David Field, CEO of OneRoof Energy, told Bloomberg. "The market is absolutely huge. The industry has to get past this idea of canvassing and use technology and networks in order to sell."
The US just passed 10 gigawatts (GW) of solar installations. About 270,000 homes have them, half of which are financed using solar leases, according to the Solar Energy Industries Association. A quarter of the 100 million homes in the US are suitable for solar, says the Department of Energy.
As marketing cost drop, solar system prices can come down too. Soft costs such as marketing and permits now comprise a full half of solar system costs now that prices have come way down – at least 39% in the past two years. In July, they reached $0.84 per watt, down from $2.10 in November 2010, according to Bloomberg New Energy Finance.
Sunrun acquired software startup LightMile to automate the sales process. Using the software, a sales team can design proposals in minutes, avoiding multiple site visits. It's boosting close rates and has the potential to cut costs 20% by 2015, they say. "The faster we respond to someone when we find out they're interested, the more likely they are to sign up."
Toronto-based Pure Energies bought solar aggregator One Block off the Grid to automate customer acquisition. An online marketplace compares prices and services from SolarCity, Sunrun and OneRoof, just like any other online retail comparison site.
These efforts come at a crucial time for solar economics, which are catching up to wind.
"It is a great time for consumers and end users to purchase or lease distributed solar PV systems, as prices continue to fall in the midst of fierce competition and continued consolidation," says Dexter Gauntlett, Navigant research analyst.
Reducing permit costs – $0.50 per watt or $2,500 of the total system – is the primary mission of the National Solar Permitting Database spearheaded by Clean Power Finance and supported by a $3 million grant from DOE's SunShot Initiative.
Solar installers got the lion's share of venture capital in Q1 2013.
(Visited 5,284 times, 3 visits today)