The mountains surrounding the tiny town of Rjukan, Norway, are picturesque, but they also prevent sunshine from reaching the town's streets during the winter. The town literally lies in shadow from September to March, which is depressing for residents and tourists.
During this coming winter, however, engineers will try out an idea to brighten the town. Three massive, rectangular heliostat mirrors with a total surface area of 538-square-feet – will reflect sunlight into the town square, turning it into a public skating rink.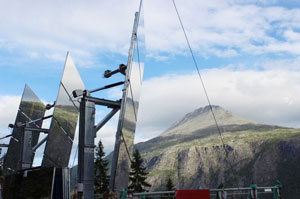 The "Mirror Project" works by reflecting sunlight from the face of the mountains that ring the town down into the valley, focusing on the 2,150-square-foot town square. In mid-July, tracking mirrors were installed with the help of a helicopter. A computer controls a mechanism that adjusts the angle of the mirrors and the system runs primarily on wind and solar energy.
"The square will become a sunny meeting place in a town otherwise in shadow," say Norwegian officials.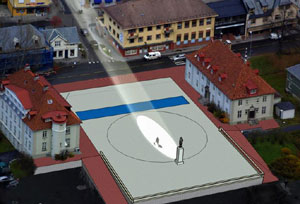 If the system works, Rjukan will keep it there permanently. Most of the $835,000 cost has been raised from private donors, reports Popular Mechanics.
The Italian Alps village of Viganella and Austrian town of Rattenberg also use much smaller heliostatic mirrors to create artificial sunlight in the winter.
Heliostatic technology, originally developed for use in concentrated solar plants, are also being used in cities for similar purposes. For example, in Sydney, Australia, the $600 million One Central Park project features a cantilever covered with motorized mirrored panels, which reflect sunlight onto landscaped terraces to create more green space.
(Visited 6,170 times, 16 visits today)