After attending the Air Paris Show where aviation vendors show off their latest innovations, Frost & Sullivan have some exciting developments to report.
Major industry players have novel solutions they say, which could catapult the aviation industry to an all-electric revolution – with all-electric aircraft.
"The buzz word is "electric," says Alix Leboulanger, Frost & Sullivan Aerospace & Defence Analyst. "The key attractions at the Air Paris Show were the electric prototypes from big industry players."
All-electric airplanes could take off by 2035-2040, she predicts.
A couple of innovations are:
Green Taxiing (Safran and Honeywell), which allows an aircraft to taxi autonomously from the airport gate to the runway without the use of engines.
TaxiBot is a tug vehicle that allows a plane to move on the ground without using engines. It's developed by Israel Aerospace Industries, Airbus, TLD Group and LEOS.
Here's what a taxibot looks like: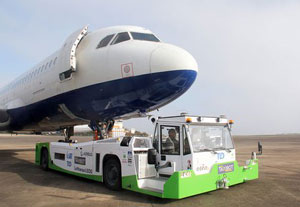 Besides reducing the industry's emissions and noise pollution, these innovations make aircraft more easily available and extend the life of engines. By reducing fuel use, airlines are less affected by rising and volatile oil prices, which aids profit margins and cuts passenger fares, they say.
A Boeing 747 can go through a ton of fuel at a cost of over $1000 (while emitting several tons of carbon) during an average 17-minute taxi to take-off, says the Economist. And when the aircraft lands there's another long drive to the passenger gate. The world's airlines spend about $7.5 billion a year just taxiing between passenger gates and the runway, Yehoshua Eldar of Israel Aerospace Industries, told the Economist.
The aviation industry currently produces 3% of world emissions and is under pressure to bring them down. The industry committed to carbon-neutral growth by 2020, and is currently mostly focused on biofuels, where there's lots of activity.
Back in 2006, Sir Richard Branson conceived of many innovations for the industry.
On the electric side, the focus is primarily on replacing aircraft pneumatic and hydraulics systems to make airplanes lighter and faster, but engineers are working on how electric drives can provide better efficiency than mechanical transmissions.
The final and golden milestone will be a completely electric power system and thrust. "As soon as aircraft propulsion becomes fully electric, biofuels, heat engines, and combustion steel and aluminum, will be by-gone memories of the 20th century," she says.
Despite these developments being on-track, recent debates on lithium-ion versus nickel-cadmium batteries give the impression that 100% electric aircraft aren't ready. Cutting-edge aircraft on display at the Paris Air Show have already flown successfully.
"Will it be an all-electric airplane first, then all-electric helicopter and finally all-electric UAV or will it just be a radical new aircraft type, like Project Zero?" asks Leboulanger. "Based on this, the entire development timeframe for aviation to go electric will be revised. With aircraft interiors getting more modular and aircraft more versatile, R&D teams may well take this opportunity to realize an all-in-one change."
Project Zero, the world's first electric tilt-rotor aircraft has already made several flights. It takes off and lands like a helicopter and flies like an airplane. A hybrid version is under development where a diesel engine drives a generator to keep electrons flowing, but when the aircraft is on the ground, it can be pointed into the breeze, allowing windmilling blades to supplement recharging batteries, says Wired Magazine.
Learn more about Project Zero:
Website:
[sorry this link is no longer available]
(Visited 6,655 times, 17 visits today)