Making and selling cars is not an easy proposition, especially if you're competing against established big guys like Ford and GM, and even more so if you're making an electric car – which few people seem ready to buy yet.
So, it's sad but not surprising that two courageous companies that took a stab at manufacturing electric cars are in trouble. Indeed, it would be more surprising if they succeeded.
Fisker Automotive, which was producing the $100,000 electric sports car Karma, stopped making cars last year. They have had to lay off 75% of employees while struggling to find capital, but it doesn't look good.
The Department of Energy (DOE) gave Fisker a $529 million loan in 2009, but it had only drawn $193 million when payments were stopped in 2011.
Payments were stopped because Fisker didn't meet DOE's milestones – that 11,000 cars would be sold by 2011. Only 2000 Karmas have sold worldwide and just 900 in the US.
Last week, DOE seized $21 million from Fisker to get some of the money back, when it failed to meet the loan repayment schedule. One of the most heavily-backed venture companies ever, Fisker raised $1.2 billion from investors – $100 million of that last September.
Lots of problems plagued Fisker, including losing 10,000 cars in Hurricane Sandy.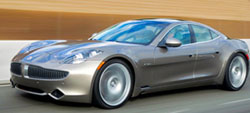 Naturally, this provides new fodder for GOP attacks, who are more than happy to revive Solyndra. They held a hearing on Fisker last week.
"Despite Fisker's difficulties, our overall loan portfolio of more than 30 projects continues to perform very well, and more than 90% of the $10 billion loan loss reserve that Congress set aside for these programs remains intact," Aoife McCarthy from DOE told Bloomberg.
Coda Too
Coda Holdings has filed for bankruptcy and is looking to sell its assets for $25 million. The company did not receive a loan from DOE.
Its car debuted a year ago, and although some criticized it for being "no frills" it had a driving range of 125 miles.
Although investors poured $344 million into the company, when it came time to raise more capital it wasn't there. By that time it had become clear the electric vehicle market would grow much slower than people hoped. There were also production delays.
The company plans to quit auto manufacturing and refocus on energy storage, which is much less capital-intensive. It plans to use the technology in its cars but for utilities and building operators to store power.
Other casualties in the electric vehicle space are A123 Systems, which supplied lithium batteries to Fisker, and Ener1, another battery manufacturer for electric cars.
Ener1, which received $118 million from DOE says it will exit bankruptcy with $86 million in new equity funding and a stronger balance sheet.
Tesla is the only pure-play electric car manufacturer that's selling substantial numbers of cars, achieving profitability for the first time last quarter.
And it said it will repay its DOE loan of $465 million by 2017.
Two new companies have entered the electric vehicle space: Detroit Electric and GreenTech Automotive.
Sales of plug-ins are growing in the US, just not as optimists anticipated. 50,288 plug-ins sold in 2012, led by GM's Chevy Volt, up from 17,805 in 2011, according to Bloomberg. 17,842 plug-ins sold during the first quarter of this year.
All-electric car sales totaled 13,542 in 2012, a 34% rise from 10,104 sold in 2011, says Bloomberg, with Hawaii the leading state.
(Visited 5,475 times, 6 visits today)