Solar Impulse, an airplane powered solely by solar energy, is on its way across the US today.
It took off at 6:15AM PST from Moffett Field in south San Francisco, a civil-military airport, and is headed to Phoenix first. That leg of the trip will take 15-20 hours.
After that it will stop in Dallas, St. Louis and Washington, D.C. and finally end up at JFK in New York. The whole trip will take about two months, flying day and night, depending on the weather.
It can't fly in cloudy or rainy conditions or in strong wind or fog.
The plane was initially meant to demonstrate it could fly during both day and night, but just for 24 hours. But it has performed so well that it's flown across Europe and Africa (separate trips) and now it will fly across the US.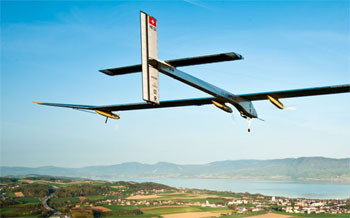 It doesn't have the technology needed for its ultimate goal – to fly around the world in 2015. A more advanced version is being developed for that.
"Our future depends on our ability to convert rapidly to the use of renewable energies. Solar Impulse is intended to demonstrate what can be done already today by using these energies and applying new technologies that can save natural resources," says Bertrand Piccard, who co-founder and co-pilot with Andre Borschberg.
The Airplane
The plane gets its power from 207-foot wings – the wingspan of a jumbo jet – covered with 12,000 solar cells.
The solar cells keep four large batteries charged that are under the wings, storing about as much energy as Tesla's electric car. Also on the bottom of the wings are tiny motors, which provide about 25% of its torque.
It is very light – about the weight of a small car – because it's made from carbon fiber. And it travels at about 43 miles per hour.

In 2010, Impulse completed a 24-hour test flight that demonstrated its ability to fly through the night with power stored during daylight hours. Last June, it flew the first intercontinental flight, from Spain to Morocco.
The project has $112 million in backing with various manufacturers involved in the technology that are using it as a way to test new materials and gain brand recognition.
A similar effort is underway but using a solar-powered boat, MS Tûranor PlanetSolar. It completed its first trip around the world last May using SunPower solar panels.
Learn more about Solar Impulse:
(Visited 4,217 times, 5 visits today)