Venture capital firm SJF Ventures has closed its third investment fund, and in a time when these funds are hard to raise, it's impressive that this one was over-subscribed.
SJF raised over $90 million – beating its target of $75 million and tripling the size of the previous fund at $28 million.
A wide variety of investors are participating in the fund – family offices, pension and mutual funds, bank, insurance and foundations.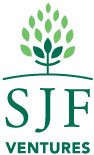 Perhaps that's because SJF's current, second fund is performing in
the top quartile all US venture capital funds, proving their impact-based strategy can yield above market financial and
mission results.
SJF Ventures invests in high growth companies that have a positive impact on society and that are looking for expansion capital rounds of $1 million to $10 million.
In the last 10 years, they have invested nationwide in 36 portfolio companies, such as Aseptia, BioSurplus, CleanScapes, Community Energy, eRecyclingCorps, Fieldview, Optoro, MediaMath, MedPage Today, and ServiceChannel.
The focus is on companies in asset recovery, recycling & reverse logistics, energy & resource
efficiency, intelligent infrastructure, sustainable agriculture and food,
education, health and wellness.
Investors in SJF Ventures III
include Citi, Deutsche Bank and State Street Bank; Annie E. Casey, F. B. Heron, Hull Family, Jesse Smith Noyes, and Park
Foundations and the Wallace Global Fund; MetLife and Prudential Financial, Inc.; Calvert
Equity Portfolio and MMBB Financial Services; Investors' Circle members; family
offices such as Armonia, the Gary Community Investment Company and OpenBox; clients of Abacus Wealth Partners, Athena Capital Advisors, Ballentine
Partners, Cambridge Associates and others.
Another venture capital fund that recently closed is Westly Group, which raised $160 million.
(Visited 4,908 times, 13 visits today)