In what the UK's Independent calls a "transformational boost," China is preparing to set an absolute, can't-go-above cap on greenhouse gas emissions.
Not immediately, but by 2016.
And although the government hasn't divulged what that cap will be, the fact that they are moving in that direction – even as the US has not – is quite significant.
The main barrier to achieving an international climate change treaty has been the battle between the US and China over "who goes first." The US wouldn't make a commitment unless China did and China believed that was unfair because it's a "developing country" and should be allowed to grow just as the US did for so many decades.
If China sets a cap it will do what the US should have done years ago – show leadership on the most critical issue of our time.
A couple of years ago, China superseded the US as the world's biggest greenhouse gas emitter. It now produces 25% of all emissions, while the US accounts for 17.6%.
"This is very exciting news," Lord Stern, chair of the Grantham Research Institute on Climate Change at the London School of Economics, told The Independent.
His 2006 report is regarded among the most influential documents on climate change.
"Such an important move should encourage all countries, and particularly the other large emitters such as the United States, to take stronger action on climate change. And it improves the prospects for a strong international treaty being agreed at the United Nations climate change summit in 2015," he says.
"This is a big shift in China's position and should unblock the standoff between the US and China in the global climate change negotiations. Without an agreement between these two major players it is hard to see how an agreement can be reached in 2015,"
Doug Parr, chief scientist for Greenpeace, told The Independent.
Last year, new Chinese leadership began talking about creating an 'ecological civilization,' meaning they recognize the problems they are creating by sacrificing people's health and the environment for economic growth.
China's powerful National Development and Reform Commission agency, which is responsible for planning social and economic development, proposed the cap. The agency also says it expects greenhouse emissions in China to peak in 2025, five years earlier than its previous estimate, reports The Independent.
So far, China has only agreed to reduce the carbon intensity of its economy – 45% by 2020 (from 2005 levels). It has initiated cap-and-trade pilot programs in preparation for a national roll-out in 2015 and is implementing a carbon tax. It also plans to raise solar capacity to 35 GW by that year (five time US levels in 2012).
The all-important 2015 international climate summit takes place in Paris. About 200 countries have already agreed to legally binding targets.
China's Cities Barely Livable
China's speed and intensity of development has cost the country (and the world) dearly, making most of its largest cities barely livable.
Beijing, Shanghai, Guangzhou and other major cities aren't on the list of "habitable cities" because of mounting traffic congestion, pollution, food safety issues and unaffordable housing. They are in the top 10 for commercial advantages and cultural
development, according to a Chinese Academy of Social Sciences report.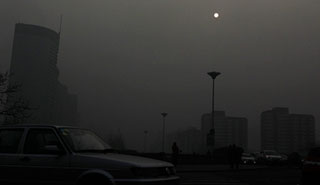 The ultimate goal of economic development is prosperity for the country's citizens, but many large cities are barely people-oriented and hardly satisfactory in ecological protection, Li Guangquan of China's Center for Service Sector Research,
told China Daily.

(Visited 5,177 times, 5 visits today)