One of benefits of LEED certification for buildings is that over the years, the US Green Building Council has developed custom standards that apply to specific industries, such as LEED for Health Care.

Health care group Kaiser Permanente announced that all new major construction projects will be built to LEED-Gold standards – hospitals and large medical offices, for example.
That's significant because they plan to spend $30 billion over the next 10 years on new construction – 14 million square feet in over 100 buildings.
Kaiser has over 8.6 million members in nine states and the District of Columbia.
Opening in August, the Kaiser Permanente Westside Medical Center in Hillsboro, Oregon will be the first to be certified LEED-Gold. The 126-bed hospital is Kaiser's 38th hospital.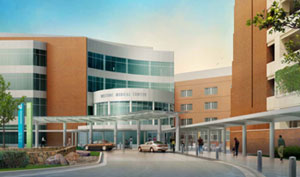 Its Napa California data center received "LEED-Platinum for Existing Buildings and two medical centers in Georgia are expected to earn LEED-Silver.
"The LEED certification system's rigorous strategies for such features as pedestrian friendliness, sustainable site development, water and energy use, indoor environmental quality and
chemical avoidance have made it one of the most influential forces in building design in the world," says Kaiser.
Kaiser has been recognized as a leader on using green materials in the health care industry for years. In 2004, it banned the use of polyvinyl chloride (PVC) in carpets and flooring, even working with manufacturers to develop PVC-free building products. It's been leading on reducing toxic chemicals and on using electronic medical records, which also has positive environmental benefits.
Kaiser also has 15 megawatts of solar on 11 hospitals and other buildings in California and has a target of cutting greenhouse gas emissions 30% by 2020, from a 2008 baseline. Kaiser purchases the solar from Recurrent Energy which owns and operates the installations.
LEED actually adds little to the cost of construction these days, especially when it is included from the beginning as an integral part of the design process, says Kaiser. It cost less than an additional 1% to build Westside Medical Center to LEED-Gold standards. And the small upfront cost will pay back five-fold in operational savings over the medical center's lifetime, they say.
Although its goal is LEED-Gold, Kaiser has been using green building practices since 2007 based on the Green Guide for
Healthcare, on which LEED for Healthcare is based.
For its continued excellence in environmental
stewardship, Kaiser Permanente earned a record 29 environmental excellence
awards this year from Practice Greenhealth, a national membership organization
for hospitals and health systems committed to environmentally responsible
operations and care.
Hospitals have huge energy costs because they operate 24 hours a day, 365 days a year. They use twice the energy of a typical building, costing the sector $10 billion a year on energy, or 1-3% of a typical hospital's operating budget.
The healthcare industry is responsible for 8% of US greenhouse gas emissions and is second only to the food industry in the waste it generates. producing 6,600 tons of waste a day, including large amounts of toxic chemicals.
Read, Greening Hospitals Would Cut Health Care Costs.
(Visited 4,547 times, 45 visits today)