Given Trump's series of worst-of-the-worst cabinet picks – antagonizing every group concerned about every issue – his choice to "lead" the EPA toward its abolishment comes as no surprise to us.
For Health and Human Services, he chose the person who wrote Obamacare repeal legislation; for Education, he chose the person who most hates public education; for Labor, he chose someone who hates unions and a living wage, so why wouldn't we expect the same for the environment?
And we still have two to go .. for Energy Secretary, we can expect a fossil fuel champion and for Interior, we can expect a fossil fuel champion and wildlife hater.
Republicans have been working for decades to reduce the size of the federal government so it can be "drowned in a bathtub" (Grover Norquist, 2001). Now, they finally have the power to get it done.
Meet Pruitt, Oklahoma Attorney General, and Trump's choice for EPA Administrator … who hates the EPA!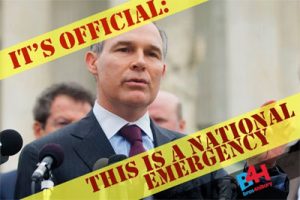 What Makes the US Special?
Trump echoed the GOP's hatred for regulations throughout his campaign, and now he gets to eliminate them, from Dodd-Frank – which protects us from another financial collapse – and any environmental rule that gets in the way of business growth.
Here's what he and his fellow Republicans don't understand: laws that protect citizens, workers and the environment are at the core of what makes America an advanced country.
Our strong environmental laws are the envy of the world, not the other way around. If you think deregulation is great, take a trip to India or China and try breathing the air or drinking the water. If corporations did the right thing, there would be no need to regulate them!
Read our articles, Give EPA Some Credit: US Has Cleaner Air and EPA Ranked Most Effective of All Federal Agencies.
Under Pruitt, our bedrock Clean Air and Clean Water Acts will likely be hollowed out, and when it's too much of a hassle to repeal them, he simply won't enforce them.  And the Republican majority in Congress will continue funding cuts, already down 21% since Obama took office.
Any action on climate change will happen in the states, and it WILL happen there.
Eric Schneiderman, NY Attorney General says: "President-elect Trump's nominee to lead the EPA is a dangerous and unqualified choice. If the EPA under Scott Pruitt fails to uphold our nation's environmental laws, I stand ready to use the full power of my office to compel their enforcement by the agency. As NY's top law enforcement officer, I am proud to lead a coalition of states that is already aggressively fighting back against efforts to reverse the progress this country has made in combating climate change over the past eight years.
"As Oklahoma's Attorney General, Pruitt has repeatedly sued the EPA in an attempt to stop the agency from carrying out its work. Pruitt is supported by the very industries he would be responsible for overseeing, particularly fossil fuel producers. He has questioned the clear scientific evidence for climate change and resisted science-based rules that protect our air and water from pollution," says Union of Concerned Scientists.
Every single rule the EPA passes is the subject of endless lawsuits, and Pruitt is right in the center of that. Whether preventing rules that reduce soot, smog, mercury, arsenic and other toxic pollutants from power plants, he's your man. And, of course, he led the suit currently keeping EPA's Clean Power Plan tied up in court – which was filed months before the rules were made public! Just before filing that suit, Pruitt and other Republican state prosecutors held secret, paid meetings with the fossil fuel industry.
Read our article, EPA Crushed By Lawsuits, No Rule Loose Enough For Polluters.
"It's no secret that Trump wants to abolish environmental protections. Pruitt, who has fought the EPA on fracking standards on behalf of the fossil fuel industry and has consistently stood for deregulating agricultural pollution in the state, will lead this agenda," says Food & Water Watch.
He's behind Oklahoma's "Right-to-Farm" measure, which voters rejected in the election. This constitutional amendment, more accurately called "Right to Harm," would have prevented citizens and even legislators from making reforms on animal welfare and the quality of the state's land, air, and water.
Pruitt's position is: "EPA was never intended to be our Nation's frontline environmental regulator…the states were to have regulatory primacy. The EPA was to be a regulator of last resort."
If that were true, he would've taken action in Oklahoma, where fracking has conclusively caused over 20,000 earthquakes – but he has not.
Nothing like picking EPA's biggest enemy to head it! More to come …
(Visited 4,376 times, 7 visits today)