In the US, solar is expected to grow by a stunning 119% this year.
16 gigawatts (GW) will be installed in 2016, shattering last year's record 7.3 GW, according to the Solar Energy Industries Association (SEIA) and GTM Research.
"This is a new energy paradigm and the solar industry officially has a seat at the table with the largest energy producers," exclaims Rhone Resch, President of SEIA.
In April, the US will reach the milestone of 1 million homes with rooftop solar. Community solar is expected to take off this year.
But 74% of growth will be from the many large solar projects that come online this year. The boom comes from developers racing to get projects in the ground in case Congress allowed the ITC to expire.
Because so much large solar comes online this year, it will take a breath in 2017: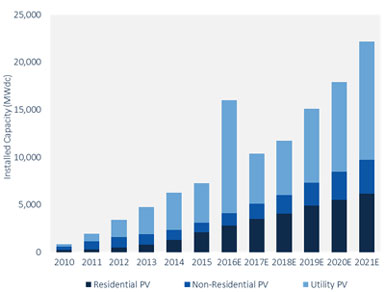 "In December, extension of the ITC provided long-term market certainty. Now, in 2016, state-level drivers and risks will move to the forefront and play even larger roles in the growth of both distributed and utility-scale solar," says SEIA.
They are referring to the battle underway by utilities to undermine net metering – a key incentive for rooftop solar – and charge "grid fees."
$2 Billion Shortfall for Utilities
In the Northeast, utilities, already seeing a drop in demand because of increased energy efficiency, will soon earn $2 billion less in revenue from that combined with the boom in renewable energy.
Grid managers plan to buy 1.4 GW less from utilities in 2019 – enough power for 780,000 homes, says ICF International.
In just five years, the US will have over 100 GW of solar installed, with 20 GW being added every year, says GTM Research.
(Visited 6,483 times, 3 visits today)