After receiving over 1 million comments, the Department of Interior announced it would reverse its decision to allow offshore oil drilling in the Atlantic Ocean.
The environmental community, coastal residents and businesses, and the Defense Department all opposed oil drilling there.
110 municipalities along the coast signed resolutions against drilling, because their economies depend on healthy ecosystems for fisheries, wildlife and tourism, not to mention the noise, traffic, pollution and potential oil spills associated with drilling, refining and transporting oil. They were joined by 101 members of Congress, 750 state and local lawmakers and about 1100 businesses.
Still No End to Drilling
But the cheers were short-lived, because Interior also announced 10 new lease sales in the Gulf of Mexico and 3 in Alaska's Arctic waters through 2022.
While wildlife in the Atlantic will be spared the seismic booms of oil exploration and potential oil spills, the Gulf will continue to be hammered, even though it is far from recovered from the BP oil spill. Wildlife struggling from climate change in the Arctic will have even more obstacles.
Keep It In the Ground legislation, introduced in the House and Senate, includes data that shows 450 billion tons of carbon would be prevented from entering the atmosphere with a ban on new fossil fuel leases on America's public lands and waters.
The five-year plan is open for comment until June 16 and the Draft Environmental Impact Statement can be commented on until May 2.
Louisiana Under Water
Louisiana is currently deluged by water in amounts never seen before. How many more 24-inch rains do we need to see before people accept the obvious?
Imagine living 30 feet above sea level and still having to swim away from your home.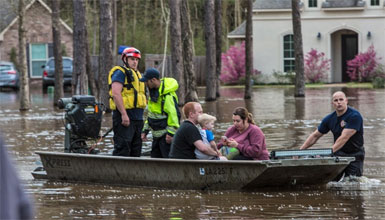 © 2016 Julie Dermansky, DeSmogBlog.
But the state strongly supports drilling no matter what. Interior's next auction makes another 43 million acres of federal waters in the Gulf available to the industry.
It's time for people in the Gulf to say Enough!
Hopefully, they will join the March 23 protest at the Superdome in New Orleans, where Interior will hold the auction.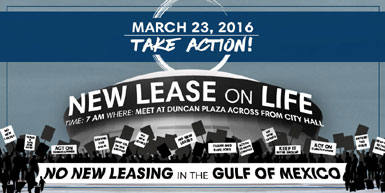 Activists will surround the Superdome in an attempt to prevent the auction, as they have successfully done recently in western states. They will call for "a Gulf region powered by solar and wind energy."
"Continuing to develop the fossil fuel industry is an act of madness," says activist Cherri Foylint.
Incredibly, the federal government still hasn't passed regulations that would prevent another massive oil spill in the Gulf.
In January, Interior announced a moratorium on coal leases on public lands after President Obama's State of the Union address, where he said: "I'm going to push to change the way we manage our oil and coal resources so that they better reflect the costs they impose on taxpayers and our planet."
30% of US energy production occurs on federal public lands and waters, responsible for 24% of US greenhouse gas emissions and 4% of world emissions, according to Climate Accountability Institute.
Stopping these leases would cut US emissions almost as much as EPA's Clean Power Plan.
Details about the March 23 protest are here:
(Visited 101 times, 11 visits today)