A trade association has formed to expand community solar across the US, the Coalition for Community Solar Access (CCSA).
Shared solar arrays are taking off around the country, enabling individuals and businesses to benefit from solar energy without having it on their property. It has the potential to bring solar to half the country that either has too much shade on the roof for solar or are renters, for example.
"Community solar is the necessary next step to bringing solar to the majority of Americans for whom solar is not yet an option," says Jeff Cramer, Executive Director.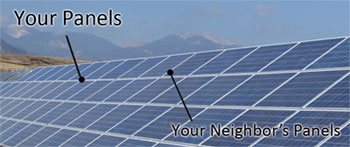 Last year, President Obama issued a raft of executive orders to make solar more accessible to middle and lower-income households, "Increase Solar Access for All Americans."
Included is the new National Community Solar Partnership. The cross-agency effort works with solar companies, NGOs and local communities to encourage shared solar arrays. 260 projects in over 20 states are moving forward.
There's market demand for up to 11 gigawatts (GW) of community solar through 2020, according to a National Renewable Energy Lab report, which finds that 49% of households and 48% of businesses can't host solar on site. By 2020, they estimate 32-49% of the distributed solar market could be building community arrays.
This year, CCSA is targeting New York, Massachusetts, and Maryland, which are primed for community solar. It will help states develop and implement policies that foster "solar for all."
Founding business members are First Solar, NRG Energy, Clean Energy Collective, Community Energy, Ecoplexus, Ethical Electric, and Recurrent Energy.
One of the innovative uses of community solar is in Minnesota, where Rural Renewable Energy Alliance (RREAL) is providing solar electricity in lieu of cash for energy assistance. Xcel Energy plans to double the amount of solar on its Minnesota grid by giving customers the option of participating in community solar projects.
Visit the website:
(Visited 5,885 times, 5 visits today)