In November, Jeff Merkely (D-OR) introduced the bill, "Keep It In the Ground Act of 2015," in the Senate and now 17 Representatives have done the same in the House.
It takes the Obama administration's moratorium on coal leases on federal lands further: it permanently bans all new fossil fuel development on public lands – coal, oil and gas – and offshore leases in our oceans. It repeals leases that have been awarded but where no extraction is taking place, and prohibits leases in the Arctic and Atlantic Oceans.
"Our oceans and our public lands belong to the American people, not to the oil and gas industry, and it's time the law reflects that," says Rep. Jared Huffman (D-CA), sponsor of the bill. "We've got to get much more aggressive in this fight against climate change."

In the Senate, co-sponsors are Jeff Merkley (D-OR), Bernie Sanders (I-VT), Patrick Leahy (D-VT), Elizabeth Warren (D-MA), Kirsten Gillibrand (D-NY), Ben Cardin (D-MD) and Barbara Boxer (D-CA).
In the House, co-sponsors are Jared Huffman (D-CA), Ted Lieu (D-CA), Mike Honda (D-CA), Barbara Lee (D-CA), Mark DeSaulnier (D-CA), Raúl Grijalva (D-AZ), Jim McDermott (D-WA), Luis Gutierrez (D-IL), Bill Keating (D-MA), Jim McGovern (D-MA), Bonnie Watson Coleman (D-NJ), Eleanor Holmes Norton (D-DC), Donna Edwards (D-MD), Chris Van Hollen (D-MD), Hank Johnson (D-GA), Alan Grayson (D-FL) and Alcee Hastings (D-FL).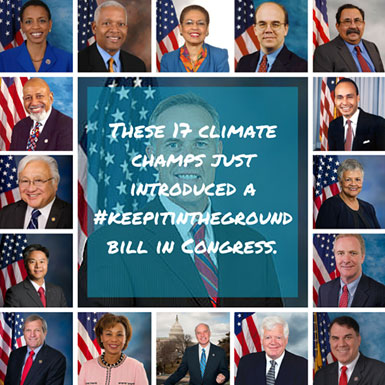 Fossil fuel leases on land and in water accounts for 24% of US greenhouse gas emissions and 4% of world emissions, according to Climate Accountability Institute. About 30% of US energy production comes from public land and water.
This act alone would cut US emissions almost as much as the Clean Power Plan, which the Supreme Court put on hold this week. Some are expressing fears the move could imperil the Paris Climate Agreement, making this action even more important, although we all know it doesn't have a chance to pass into law.
Most importantly, to say below 2°C warming, the world must abide by a carbon budget – keeping the majority of fossil fuels that have yet to be drilled in the ground, say climate scientists.
(Visited 4,781 times, 9 visits today)