Stopping climate change takes a lot more than cutting emissions, it requires restoration of Earth's support systems – forests, grasslands, wetlands, mangroves and moving to an ecological agricultural system.
Indeed, about half of world emissions are the result of destroying ecosystems. Reviving soils and forests so they can absorb carbon would consume about 25% of world emissions. Cutting deforestation in the tropics by half in the next five years would keep global temperature rise below the dreaded 2°C, reports Mongabay.

While too many of these resources continue to be exploited, there's now a worldwide movement to restore them, for all creatures on Earth.
At COP21, pledges to restore degraded and deforested lands add up to 95,700 square miles in Latin America and the Caribbean and 386,000 square miles in Africa.

Initiative 20×20, a country-led restoration effort backed by conservation groups, impact investors and multilateral funders, has a goal of restoring 95,700 square miles of natural areas – about the size of England – by 2020. About $730 million has been raised so far for the effort from impact investors and multilateral funders.
Land-use change, forestry and agriculture account for roughly 50% of the region's emissions, and over 200 million hectares are in need of restoration there, according to World Resources Institute and International Union for Conservation of Nature.

Map of world forests with potential to be restored: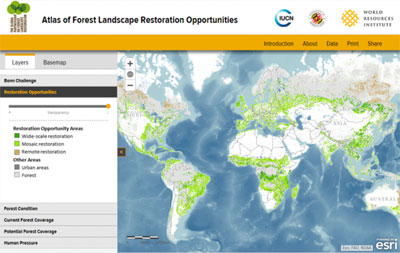 Africa
A similar, but much larger effort is launching in Africa, also led by countries.
AFR100 (African Forest Landscape Restoration Initiative) has the magnificent goal of restoring 386,000 square miles across the continent by 2030. Meeting the goal would reduce 36% of Africa's annual emissions.

10 African countries have signed on so far. The World Bank has pledged $1 billion and impact investors $550 million for the effort. Conservation groups will provide technical support, such as the Clinton Foundation, International Union for Conservation of Nature and Jane Goodall Institute.
"The scale of these new restoration commitments is unprecedented. I have seen restoration in communities both large and small across Africa, but the promise of a continent-wide movement is truly inspiring," says Wanjira Mathai, Chair of the Green Belt Movement.

"Restoration is really Africa's gift to the world," says Dr. Andrew Steer, CEO of World Resources Institute. "It will sequester carbon and bring economic benefits to low-income, rural communities. These African leaders are turning their words into action and making a real contribution to respond to the global threat of climate change."
20 years ago, for example, women in southern Niger spent 2.5 hours a day collecting firewood – scarce in the degraded landscape – but now they prune trees on their farms instead.
Both Initiative 20×20 and AFR100 support the Bonn Challenge, a global commitment to restore 150 million hectares of land around the world by 2020; and the New York Declaration on Forests that extends that challenge to 350 million hectares by 2030, while eliminating deforestation.
Not only will forests be restored, but agricultural areas will become more productive, resilient and biodiverse by creating "mosaic" landscapes (agroforestry) that include livestock (silvopasture).
Local communities have already restored over 1 million hectares in Ethiopia's Tigray region, and in Niger, farmers have planted trees across 5 million hectares of agricultural land, improving food security for 2.5 million people.
"Through AFR100, we expect to trigger one of the largest investments in forest landscape restoration the world has ever seen," said H.E. Dr. Gerd Muller, Federal Minister for Economic Cooperation and Development, Germany.

Over 700 million hectares are in need of restoration in Africa.
Read our article, Only $110 Billion a Year to Restore Earth's Support Systems.
Learn more:
Website:
[sorry this link is no longer available]
(Visited 6,713 times, 7 visits today)