ALEC has lost yet its 107th member, showing that even some of the biggest polluters no longer want to be associated with it.
American Electric Power (AEP), one of the nation's largest utilities – and one most dependent on coal – says it wants to shift resources toward complying with EPA's Clean Power Plan intead of fighting it.
What a shock!
Instead of working with ALEC – which is leading the charge to stop the Clean Power Plan – the utility sees it as a great investment opportunity, reports EnergyWire. It's a big loss for ALEC because the utility has been among the "leaders" taking EPA to court over regulations for mercury and other toxics to its ability to regulate greenhouse gases.
"We were a founding member of the Chicago Climate Exchange and supported the Waxman-Markey climate legislation. We are currently adding large-scale solar resources to our portfolio, and also are investing heavily in transmission to support renewable integration," spokesperson Melissa McHenry told E&E News. "By 2017, AEP will have cut carbon dioxide emissions from our power plants by more than 25% from 2005 levels, and we will achieve additional reductions in the years ahead as our generation mix continues to change."
AEP's territory covers 11 states: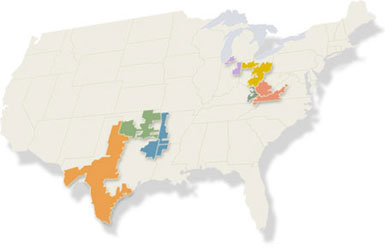 Good for you, AEP. About 54% of its electricity still comes from coal, followed by natural gas at 26% and then renewables, nuclear and efficiency, reports E&E News.
AEP is among the 50 biggest polluters in the US, and is closing a dozen coal-fired power plants by the end of next year, removing 6.6 gigawatts (GW) of pollution. It includes a carbon tax in financial projections and joined with its industry to call for strong action at this week's Climate Summit in Paris.
In a settlement with Sierra Club, AEP Ohio has agreed to close another 1.5 GW of coal plants while bringing online at least 400 megawatts (MW) of solar and 500 MW of wind in Ohio over the next four years. It would reinvigorate renewable energy in Ohio, currently stymied by the freeze of the state's Renewable Energy Portfolio.
Under the settlement, solar would be sited in Ohio's Appalachian region, turning it into a solar manufacturing hub – providing jobs where they are most needed.
But there's a catch. The four outdated, inefficient coal-fired power plants they agreed to close will keep pumping emissions for 15 years, subsidized by customers. Without the deal, economics would likely have forced it to close much sooner.
ALEC's Plan

ALEC is behind the 26 states that are suing the EPA to prevent regulations of carbon emissions from power plants. Its model legislation, "Act Requiring Approval of State Plan to Implement EPA's Carbon Guidelines," directs state attorney generals to join lawsuits against the EPA to prevent "unlawful and costly obligations from being imposed on states," and calls for transferring money into a special fund set up by participating states to underwrite efforts to challenge unwanted environmental regulations.
The money would come from state appropriations and "gifts, grants and donations" from outside groups (ie, fossil fuels). It also gives state governments special authority to "expedite approval of resources to challenge the EPA's Clean Power Plan."
Right now, as the world meets in Paris to halt climate change, ALEC is holding a 3-day meeting, where they are plotting how they will undermine any agreement.
Read our article, Battle Lines Drawn As Excellent Clean Power Plan Published.
Shell and BP also recently left ALEC.
(Visited 6,942 times, 5 visits today)