"Today we're announcing the largest, and most diverse, purchase of renewable energy ever made by a non-utility company," says Google as they announced the purchase of 842 megawatts (MW) of wind and solar energy in the US, Sweden and Chile.
That brings Google's use of renewable energy to 2 gigawatts (GW), up from 1.2 GW now – equal to removing a million cars from the road, they say – as they edge closer to the goal of running on 100% clean energy. Google's data centers worldwide currently run on 37% clean energy.
Power purchases announced today are mostly for wind (625MW across the US plus 61 MW of solar in North Carolina); Sweden (76M from wind); and 80 MW of solar in Chile.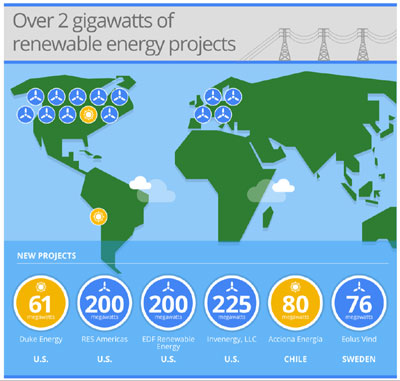 "These long-term contracts range from 10-20 years and provide projects with the financial certainty and scale necessary to build these wind and solar facilities – thus bringing new renewable energy onto the grid in these regions," Google explains. "For our part, these contracts not only help minimize the environmental impact of our service – they also make good business sense by ensuring good prices."
Besides powering its own operations with renewables, Google has invested $2.5 billion in 22 large-scale renewable energy projects over the last five years, from Germany to Kansas to Kenya.
Read our article, How Cool! Google's Next Renewably-Powered Data Center Replaces a Coal Plant.
Using Google Maps for Solar
Another recent project is Project Sunroof, where Google is applying its exhaustive mapping data and tools to make it easy for homeowners to figure out if they can put solar on the roof.
Using Google mapping technology, the software creates a 3D model of your roof, and calculates how much sun hits the roof throughout the year. It takes into account shadows cast by nearby trees and structures, roof orientation, and historical cloud and temperature patterns that could affect solar potential.
Project Sunroof tells you the size of the solar system you would need to get 100% of your electric from solar – all you do is enter your address and how much you tend to spend on electricity each year.
It also gives you an approximate price for the solar system, whether you lease, own or finance the system. Prices include current incentives from your state and the federal government. And it offers connections to solar installers.
It's being pilotted in San Francisco, Fresno, Napa, Sacramento, Long Island, NY, and Boston. Mapdwell's maps of major cities provide property owners with individual assessment of their building's potential
Another solar mapper, Mapdwell, creates similar maps of entire cities, in addition to property owners. San Francisco has potential for 3 GW of rooftop solar and New York City, has 11 GW across a million buildings.
Earlier versions were produced by Geostellar and 3Tiermapped the entire western hemisphere.
Read our article, NYC Solar Hub to Bring Solar to Cities Worldwide.
Check out Project Sunroof:
Website:
[sorry this link is no longer available]
(Visited 3,508 times, 12 visits today)