In one of his first moves as Canada's Prime Minister, Trudeau effectively blocked the Northern Gateway pipeline, closing off another route to export tar sands oil.
He banned tankers that carry crude oil along the north coast of British Columbia, where the Enbridge's pipeline would deliver the oil.
The decision protects the ecologically sensitive coast from becoming an industrial zone where hundreds of dangerous tankers would have traveled each year. Two pipelines would have carried 525,000 barrels of tar sands oil from Alberta to the coast every day, winding their way across critical salmon habitat in rivers and through coastal rainforests.
Enbridge, of course, still plans to move forward on the pipeline, noting that it's being doing a good job of convincing First Nations and other citizens of its value.
Former Prime Minister Harper approved the project last year, ignoring widespread protests and blockades. It is currently in appeals court where First Nations and environmental groups are asking for the project to be repealed.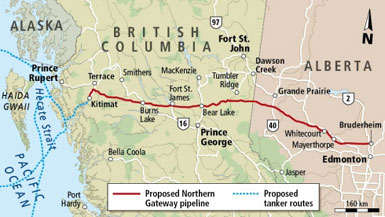 The great news comes after President Obama officially rejected the Keystone pipeline earlier this month.
Options for exporting tar sands oil are becoming fewer by the day.
(Visited 6,590 times, 6 visits today)