SolarCity is about to get some company in upstate NY, as another solar manufacturing plant opens nearby in the state's "tech corridor."
1366 Technologies is building a solar wafer factory that starts at 250 megawatts of production, with plans to eventually scale to an incredible 3 gigawatts – churning out 600 million silicon wafers a year.
The company will be anchor tenant at the Science and Technology Advanced Manufacturing Park (STAMP), located between Buffalo (where SolarCity is building its gigafactory) and Rochester – and could create 1000 jobs. Construction of the 130,000 square-foot facility begins early next year, with operations starting in 2017.
Through a lean manufacturing process, 1366 makes solar wafers – the building block of solar cells – at half the cost. It does so by dramatically cutting the time and energy it takes to make a wafer – from three days to just 25 seconds – by combining four separate manufacturing steps into a single, low cost continuous process. The process also cuts energy consumption by 90%, requires half the silicon and eliminates silicon waste.
Rather than literally sawing wafers to size – energy intensive and wasteful, 1366 makes them from directly from molten silicon.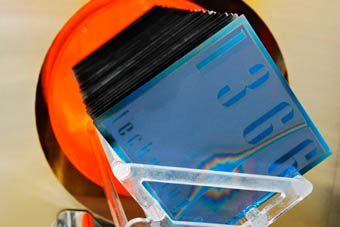 "Our goal is two-fold: deliver solar at the cost of coal and manufacture – at scale – in the United States," says CEO Frank van Mierlo.
After receiving a $150 million loan guarantee from the Department of Energy's Sunshot program for its ability to bring down solar manufacturing costs, 1366's first factory opened in western Massachusetts in 2013.
Over the years, 1366 has raised $69.5 million from venture investors that include General Electric, and from the Department of Energy's Sunshot program and Advanced Research Projects Agency-Energy (ARPA-E).
This year, 1366 appeared on Fast Company's "World's Top 10 Most Innovative Companies in Energy":
(Visited 4,026 times, 6 visits today)