If you haven't heard by now, Hillary Clinton released part of her plan to address climate change this week.
Saying it would be a major plank of her presidency, she called out Republicans for denying and preventing action on this most serious threat. "You don't have to be a scientist to take on this urgent challenge that threatens us all. You just have to be willing to act."
It's great to hear she wants the US to be "the world's clean energy superpower." Within 10 years of Clinton entering office there will be "enough renewable energy to power every American home."
Her goals:
33% of US electricity comes from renewable energy by 2027, significantly raising Obama's goal of 20% by 2030.
Install 500 million solar panels by 2020 – a seven-fold increase – that brings US capacity to 140 GW, and powering over 25 million homes.
Add more power to the grid than anytime in our history, from all forms of renewable energy.
Support EPA's Clean Power Plan
Fossil fuel production must be safe and responsible, taxpayers must get a fair deal for development on public lands, and sensitive areas should be closed to drilling.
Move our economy toward "deep" decarbonization by 2050
Help people in coal country who lose their jobs from Clean Power Plan policies.
Renew our shared commitment to preserving our disappearing lands, waters, and wildlife.
Meet our international climate agreements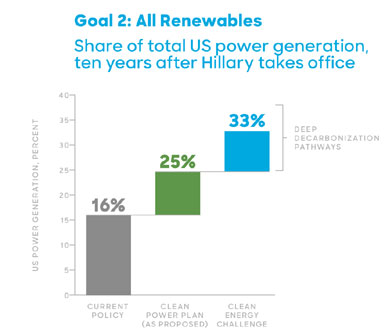 While EPA's Clean Power Plan will drive down US emissions, to achieve that much more solar capacity would require specific policy support by Congress, which it has thus far been unwilling to provide.
To expand renewable energy that much will cost about $60 billion over 10 years, she says, which would be paid for by ending some subsidies for fossil fuel producers. "We'll stop the giveaways to big oil companies and extend, instead, tax incentives for clean energy, while making them more cost-effective for both taxpayers and producers," she says.
On issues on the ground, she's keeping quiet, however. She says she "has doubts" and "is skeptical" about oil drilling in the Arctic, and won't voice an opinion on fracking or the Keystone pipeline. If you remember, as Secretary of State, she preceded over the two corrupt, biased environmental analyses of the Keystone Pipeline.
She was the first Secretary of State, however, to make climate change a foreign policy priority, appointing a Special Envoy for Climate Change. She created the Climate and Clean Air Coalition – a global initiative to reduce climate forcers. She also signed an agreement with The World Bank to assist developing countries on water security and water quality.
"Hillary Clinton is just half the way there," says Bill McKibben, who heads 350.org. "This is a credible commitment to renewable energy, and a recognition that the economics of electricity are changing fast. Now, we need Clinton to show she understands the other half of the climate change equation – and prove she has the courage to stand up against fossil fuel projects like offshore and Arctic drilling, coal leasing in the Powder River basin, and the Keystone XL pipeline."
Last month, McKibben wrote an open letter to Clinton, letting her know how she could come across as serious about addressing climate change.
Here is Hillary's Fact Sheet:
Website:
[sorry this link is no longer available]
(Visited 4,448 times, 3 visits today)