"Society clearly cannot continue down our current development path. What will it take for us to transition from polluting and finite energy resources to clean, sustainable and infinite energy? Answering this question is driving my investment decisions."
Who said that? The world's foremost investor in clean energy, Cheng Kin Ming (also known as Zheng Jianming), a Chinese billionaire who has been buying once-leading solar companies that went down when solar prices dropped like a rock several years ago.
Cheng's goal is to install over 50 gigawatts of clean energy capacity in the next 10 years – enough to power 37 million homes.
His company, Asia Pacific Resources Development Investment, owns the former-Suntech, Sunways, and SAG Solarstrom, but that's only the beginning. Besides power generation, his investments include energy storage and management, such as batteries and heat pumps, and consumer solutions, such as electric vehicles and LED manufacturers. Brand new technologies are also on the list, such as TCNT, which generates energy from seawater.
Cheng is identifying and integrating complementary clean energy companies, creating entire supply chains across multiple verticals, "to produce integrated solutions on an enormous scale."
Already, the company has a solar project pipeline close to 3 GW, with an annual manufacturing capacity of 2.5 GW of solar.
Oil Billionaire Wants Solar in Russia
Russia has started to open the door to renewable energy, and oil billionaire Viktor Vekselberg wants in.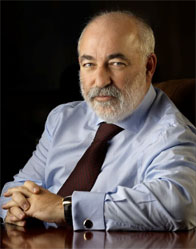 His company, Hevel Solar, plans to spend $450 million to develop solar projects over the next three years. He's built two projects so far, one in Siberia and one near the border of Kazakhstan, and another comes online in July. Hevel also manufacturers solar panels for its projects.
He doesn't want solar to displace oil, but sees energy diversification as an important way to provide off-grid energy and to ease an over-burdened grid.
Russia has been subsidizing renewable energy since 2013, focusing on solar, wind and small hydro through auctions. While the government plans 3.6 GW of wind farms, but says it will only commission 500 MW a year between 2020 to 2024.
Russia ranks #5 on GHG emissions (producing 5% of world emissions), after China, the US, EU, and India, according to the World Resources Institute. The country was among the first to submit its Climate Pledge to the UN, committing to cutting emissions up to 30% from 1990 levels by 2030, if it can include standing forests as part of the equation.
Ukraine Wants Renewables
Ukraine set a target of 11% renewable energy by 2020, which would add some 6.5 GW to diversify away from reliance on Russian gas.
Ever since tensions with Russia broke out, Ukraine has been asking the US to invest in renewable energy there, and we keep offering natural gas. Ukraine doesn't even have a LNG port to accept gas.
Last year, Ukraine officials went on a "road show" to drum up investments, but the instability there makes it difficult to attract capital.
We've heard of one company that's investing – Massachusetts-based Briggs Capital will build 20 biogas plants that turn agricultural waste into energy, using low-cost loans from the US government.
Experts say all the gas Ukraine imports from Russia could be replaced with renewable energy in 3-5 years, reports Bloomberg. Ukraine has one of the most generous feed-in tariffs for solar PV.
Crimea is home to Europe's biggest solar farm, the 100 MW Perovo Solar Park.
Visit Cheng Kin Ming's website:
Website:
[sorry this link is no longer available]
(Visited 5,420 times, 18 visits today)