A 26-story apartment building on NYC's Roosevelt Island will prove that designing to German "Passive House" standards is possible for large buildings.
It will house 530 graduate students, faculty and staff from Cornell University starting in 2017, as the tallest building on Cornell Tech's new campus. The university and Hudson Companies are collaborating on the development, and Handel Architects is the designer.
Like all Passive House buildings, its energy demand will be 60-90% lower than conventional counterparts, thanks to an airtight envelope with 15-inch walls and built-in triple-gazed windows. The pre-fabricated metal façade acts like a thermal blanket, an reduces the number of joints that need sealing. An energy recovery system keeps indoor air fresh, and reuses outgoing energy for heating and cooling. The southwest façade has a louver system that extends the entire height of the building, acting as "gills" that house heating and cooling equipment and allow the building system to "breathe."
Designers are working within a tight $115 million budget to keep apartments below market rates.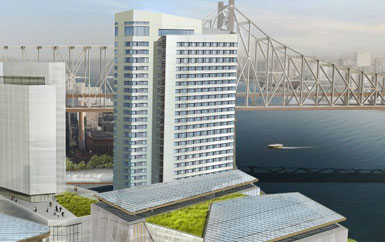 This will be the 22nd apartment building in the US to strive for this standard. There are a few dozen passive house homes.
"Sustainability in terms of campus design is hugely important to Cornell. The idea for our residential tower is to take that mission even further, and set the bar for this energy-efficient development throughout New York City," Jennifer Klein, assistant director for strategic capital partnerships at Cornell Tech, told the NY Times.
Once certified by Passive House Institute, Handel Architects plans to "take it on the road," showing other developers and institutions the viability of going in this direction, reports the NY Times.
The entire 12-acre campus – to be built out over the next 20 years – will be equally innovative, Klein says. The first academic building is also under construction and will be among the largest net-zero energy structures in the US. Morphosis Architects is the designer.
The campus is the result of a competition former Mayor Bloomberg held to bring an advanced science technology campus to NYC. The winning university gets to build on free land and received $100 million for construction. Bloomberg recently donated another $100 million.
Read our article, By 2050, Urban Buildings That Breathe And Adapt.
Learn more about Passive House standards:
(Visited 3,811 times, 18 visits today)