Whole Foods Market says it plans to open a few hundred more stores but this time products will be "value priced."
Competition from conventional supermarkets, a reputation as "Whole Paycheck" and diminishing returns on existing stores, led the company to go for an entirely different concept.
It will be a streamlined version of Whole Foods with a smaller, "curated" product assortment and standard store design. They haven't announced the name yet but the first stores open next year.
"Today, we are excited to announce the launch of a new, uniquely-branded store concept unlike anything that currently exists in the marketplace," says Walter Robb, co-CEO. "Offering our industry leading standards at value prices, this new format will feature a modern, streamlined design, innovative technology and a curated selection. It will deliver a convenient, transparent, and values-oriented experience geared toward millennial shoppers, while appealing to anyone looking for high-quality fresh food at great prices."
Whole Foods' New Ratings on Vegie, Fruit & Flower Suppliers: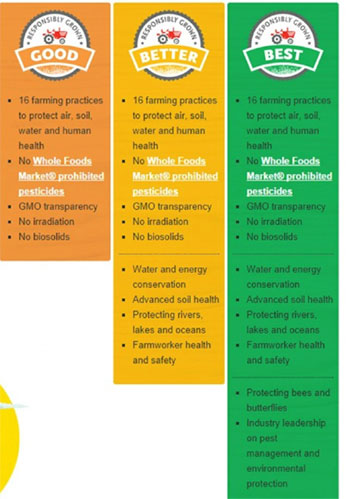 Whole Foods Market has 373 stores. On the conventional side, Walmart and Target are getting into organic big-time, and there are also more niche rivals such as Sprouts Farmers Market.
(Visited 4,703 times, 4 visits today)