This is such a simple, cool idea!
Golden Sun Taxi is an open air vehicle that sits eight people and is powered by solar panels on top.
The idea came to the co-founders in a college entrepreneurship class and they started the company last June at Folly Beach, near Charleston, South Carolina.
Besides the taxi service, they offer island tours where they talk about the history and wildlife of the area.
"We want to create an experience that's memorable and changes peoples' idea of what a transportation company can be," Jake Cotreau tells Sierra Club. "It's really important for small and big businesses alike to show that solar is feasible and using renewable energy is economical. In time, we believe consumers will catch on and start using renewable power as a regular practice," says partner Matt Coda.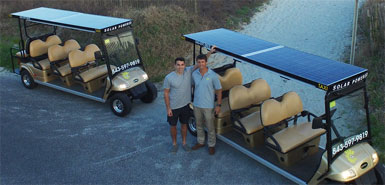 They see it as a way to educate people about solar because most customers know little about it and haven't seen solar panels up close. Some people take a ride just to experience the solar and many people want a good look at the panels.
Not buying gas saves the start-up money, but because of the amount of driving they do, they have to supplement solar with some battery power.
Their goal is to set up a national franchise.
"There's only one Earth," Coda told Sierra Club. "We cannot continue to pollute it without suffering the consequences. It's essential that businesses show the world that solar and other renewables really do make economic sense. Once businesses, big and small, are able to show that solar power works and it's not a gimmick, then consumers will follow."
Read the full article and support Sierra Club!
(Visited 3,665 times, 88 visits today)