Does this sound familiar?
Pay us to cope with climate change because you caused it. That's the stand developing nations take at international climate talks, and now that argument is being used right here in the USA.
Is this is a sign of things to come?
The Mountain Pact
11 Western towns in Colorado, Utah and New Mexico have formed "The Mountain Pact" to get coal companies to pony up the cash they need to cope with climate change impacts in the American West.
"Economic, public health and environmental damages from catastrophic wildfires, floods and reduced snowpack are some of the threats we face," says their letter to Sally Jewel, Secretary of the Interior. It is also being sent to the White House and members of Congress.
Although they want the pollution reduced from coal, they are simply asking for coal miners to pay market rate prices for the coal they extract from public land. The US charges the lowest royalties in the world.
Arch Coal wants to open this area in Colorado, but a judge ruled against it using climate change as the reason for the first time: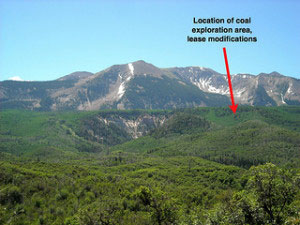 Many of these towns are snow-based resort communities which must diversify their economies in order to adapt. The mayor of Telluride, for example, plans to put the money toward solar and wind installations.
"We have to band together to draw attention to the changes we are seeing. It is actually bad and needs to be addressed, Ashley Perl, Aspen's Climate Action Manager, told the Denver Post. Aspen has a goal of 100% renewable energy.
Towns signing on are growing and currently are mostly in Colorado: Aspen, Telluride, Leadville, Ophir, Ridgway, Buena Vista and Carbondale. Dillon and Park City, Utah are signatories along with Taos, New Mexico.
In 2013, the US Ski Industry signed a Climate Declaration, urging Congress to address climate change.
Royalties Are Being Evaluated
In April, the Department of Interior announced it is evaluating royalties for coal, oil and gas leases and royalties on federal lands. Half the fees the federal government gets are shared with states where mining occurs, and towns and cities get a share of that.
Amazingly, it costs $1.50 per acre a year for the first five years of a lease, and increases to $2 per acre for years 5-10 – the same as when Eisenhower was President.
Royalties are 12.5% of the value of the extracted coal, oil and gas, but that ends up around 5% after loopholes, and is much lower than the 18.75% for offshore leases (and that's also undervalued).
US taxpayers are losing about $1 billion a year in royalties – $30 billion over the past 30 years, says The Mountain Pact.
Read our articles, Even At Bargain Basement Prices, No Coal Company Bids At Auction and US Continues To Lease Our Coal for $1 a Ton.
Banks Keep Coal On Life Support
This week, Bank of America announced it will lower its financial exposure to coal because of the industry's bleak future. Between carbon and mercury regulations and stiff competition with gas, investors in coal companies increasingly face stranded assets.
The move comes, however, after years of relentless pressure from environmental groups. For years, the world's largest banks have promised to stop financing coal, but in 2014 they still supported the industry with $144 billion – a billion less than the previous year.
Financing for coal mining actually increased from $55 billion in 2013 to $70 billion in 2014, and financing for coal-fired power producers dropped to $75 billion from $90 billion in 2013.
Some banks have stopped financing the worst kinds of coal mining, such as mountaintop removal in the US and the world's largest mine in Australia.
"It's outrageous for some banks to be hitching themselves to this year's UN climate negotiations in Paris as 'climate leaders' while they are not prepared to pull out of all coal sector financing, end of story," says Yann Louvel at BankTrack.
Read our articles, World's Biggest Coal Miner Gets Help From Major Banks and JP Morgan, Bank America, Citi Still Top Coal Financiers.
Read, The End of Coal, the Coal Finance Report Card 2015, which ranks the banks:
Website:
[sorry this link is no longer available]
(Visited 3,681 times, 10 visits today)