Calling the response "overwhelming" and "crazy" Elon Musk says Powerwall batteries are already sold out through mid-2016.
Within days of announcing the launch of Tesla Energy, the company has 38,000 reservations for Powerwall – the home version of the battery. And since most people ordered more than one battery, the sales add up to more like 50,000-60,000.
There's also lots of interest on the industrial/ utility side for the larger version, called Powerpacks. There are 2500 reservations for about 10 Powerpacks each, for a total 25,000.
Tesla also received 2,500 requests from distribution and installation companies.
Musk said all this on a call with investors on Tesla's first quarter results, but spent most of the time answering questions on Tesla Energy. The Gigafactory in Nevada – which comes online in mid-2016 – could be devoted to just these batteries, he says, indicating that this first factory won't meet demand.
He expects demand for these batteries to be double that for electric cars.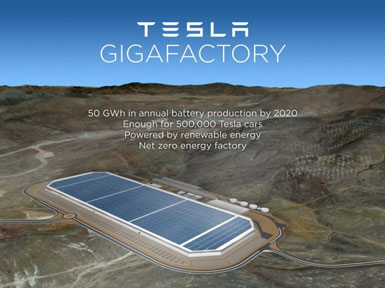 In the first quarter, Tesla sold 10,030 Model S cars – 55% more than Q1 2014 – with revenues of $1.1 billion and a loss of $159 million. Its Model X SUV goes on sale late this year, followed by a lower priced Model S in 2017 ($35,000).
For background, read our article, Tesla's Next Goal: Transform How We Get Electricity.
(Visited 3,236 times, 6 visits today)