As he has done every year since 2008, Senator Tom Udall (D-NM) introduced legislation to create a National Renewable Portfolio Standard (RPS).
Along with a carbon tax, a national RPS are the two key policies that would greatly accelerate renewable energy in the US.
As you likely know, RPS are state level policies that require utilities to get a percentage of their electricity from renewables by a set date. Each state has different requirements ranging from 10% by 2015 (North & South Dakota) to 50% by 2030 (California.
Under Udall's bill, the largest US utilities would have to generate 30% from renewables by 2030, starting with 8% by 2016 with gradual milestones from there. States could still set higher goals, but a national RPS would create a floor, ensuring every state participates at a reasonable level.
"This policy alone would raise renewable energy levels in the US – mostly solar and wind – 57% more than our current path and would cut emissions 11% by 2030. Combined with energy efficiency advancements, emissions would drop in half by 2030, and electricity prices would be virtually unchanged," says Union of Concerned Scientists (UCS) in their analysis of the legislation.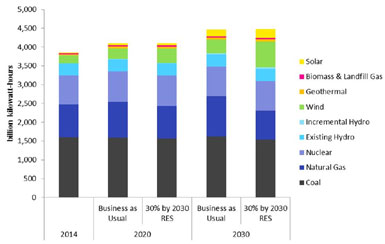 Solar PV would expand 13 times from current levels to 152 gigawatts (almost 30 GW more than business-as-usual) and wind would reach 180 GW, triple today's levels and 80 GW higher than business as usual, concludes UCS.
All of this would create $295 billion in new capital investments ($106 billion more than business as usual), $2.6 billion for local governments through property taxes and $830 million in lease payments to rural landowners.
Co-sponsors include Senators Ed Markey (D-MA), Martin Heinrich (D-NM), Michael Bennet (D-CO), Jeff Merkley (D-OR), Sheldon Whitehouse (D-RI) and Mazie Hirono (D-HI).
What a National RPS Would Prevent
As you know, Republicans and their special interests, such as Koch-backed Americans for Prosperity and ALEC are constantly trying to eliminate state RPSs.
They have succeeded in Ohio and West Virginia, and now Kansas, where the state legislature voted to make the RPS voluntary. Repeal is also on the table in Texas and most southeastern states don't have an RPS. So far, they have failed twice in North Carolina, where solar is booming. The latest proposal – to cut the state's RPS in half – was voted down in April.
Colorado, Montana, Connecticut and New Hampshire voted down attempts to repeal the RPS this year.
But they will keep trying, which is why we need a National RPS. While we're wishing – because this will never pass Congress with a Republican majority – we should also have a National Energy Efficiency Standard, another state program that requires utilities to reduce energy demand by a certain percentage by a set date. Only about a dozen states have this.
Indiana is the first state to roll back its efficiency standard – making it voluntary for utilities – and Ohio froze its standard along with the RPS.
On the other hand, states considering raising their RPS are New York, Michigan, Minnesota, Illinois and Vermont. Notably, Hawaii passed the first law requiring 100% renewable energy by 2045.
Here's the Union of Concerned Scientists' analysis:
Website:
[sorry this link is no longer available]
(Visited 2,946 times, 6 visits today)