Canada submitted its official climate targets to the United Nations, and as you can imagine, there's lots of criticism.
This longtime environmental leader has reversed course since Harper became Prime Minister and he has backtracked on most every related commitment.
Canada's Targets
Canada's goal is to cut carbon emissions 30% by 2030 from 2005 levels, slightly lower than that of the US and much lower than the EU.
It will also:
Match US regulations that limit methane emissions from fracking (which are very weak)
Specifically target emissions from power plants that run on natural gas and from manufacturers that make chemicals and nitrogen fertilizers.

Conventional coal plants will be phased out as they reach end of life (better than US policy).
There is no mention of controlling emissions from tar sands extraction, Canada's biggest emissions source by far. It would be "crazy" to burden those companies with regulations at a time of such low gas prices, Prime Minister Harper says.
And Canada will likely meet part of its target by not actually cutting emissions: buying offsets from other countries and from placing a value on its forests for absorbing carbon.
"I'm not confident that [the 2030] promise will be able to be kept, and in fact I'm confident that they have no intention of meeting that target," Megan Leslie, Deputy Leader of the New Democratic Party, told Globe & Mail. "Let's look at the last targets they set. We're not even halfway there. I almost feel like asking why bother on their part. Where's the plan?"
Indeed, Harper pulled Canada out of the Kyoto Protocol when it became clear that goal wouldn't be met, and it is far from meeting its 2009 goal, announced at the Copenhagen Climate Summit – to cut emissions 17% by 2020 from 2005 levels.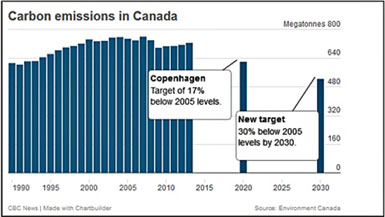 Harper is depending on progressive provinces for emission cuts – British Columbia which taxes carbon, and Quebec and Ontario have joined with California on cap-and-trade.
Last week, Ontario announced its own climate targets: emissions 37% below 1990 levels by 2030 – double the national target – and 80% below 1990 levels by 2050. Ontario closed its last coal plant and is electrifying its rail system.
US and EU climate targets translate into emission cuts of 2.5 – 2.8% a year, in contrast to Canada's at 1.7%, according to World Resources Institute.
(Visited 3,144 times, 1 visits today)