In North Korea, solar panels are popping up at markets and hardware sections of department stores, and can be easily seen hanging outside of peoples' balconies and windows, says Reuters.
Solar is a godsend in this country, which lacks electricity, and they are thankful to be able to light their homes at night. Satellite images show a sharp contrast with South Korea – the North is dark, South is bright.
Reuters obtained photographs for some urban areas that show around 10-15% of apartments with small solar panels attached to windows or balconies. The government tacitly allows them, says Reuters, but local authorities may require bribes for permission to install them.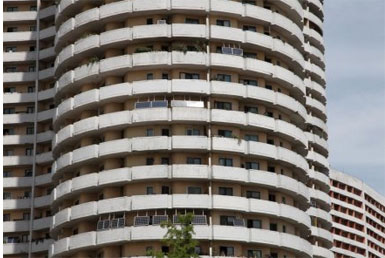 Thompson Reuters
North Korea exports much of its coal and prioritizes electricity for factories and political purposes, leaving many without power during the long, cold winters when hydroelectricity is in short supply.
Solar systems usually consist of an inverter, solar panel and battery that allows for charging cell phones or electricity to run appliances.
"We can heat our homes with a heater powered by a solar panel," Kim Yeong-mi, who now lives in South Korea, told Reuters.
The government has been installing some solar-powered street lights and North Korea now has a solar panel factory to help "make up the shortage of electricity." The government has been releasing a "barrage" of slogans signaling interest in renewable energy like, "Develop and make effective use of wind, tidal, geothermal and solar energy!," reports Reuters.
Across the border in China, shops advertise solar kits of various sizes. The largest can run a TV, laptop, cell phone, refrigerator and a washing machine.
Watch the video:
Website:
[sorry this link is no longer available]
(Visited 2,842 times, 4 visits today)