Climate change impacts all life on earth and that includes human health.
Last year, the White House issued a report to help Americans understand the relationship between climate change and our health and now President Obama is launching a major effort to address it as apart of his adaptation plan.
Because we can't see carbon pollution, many people aren't aware of its health impacts, which range from respiratory illnesses from smog and wildfires to higher incidences of vector-borne disease, such as Lyme. The percentage of people with asthma has more than doubled in the past 30 years, the White House says, for example.
This spring, Surgeon General Murthy will host a White House Climate Change and Health Summit to pull in scientists, health professionals and tech businesses to help.
Preparing the Next Generation of Health Professionals
One of the more interesting elements of the program is training the next generation of health professionals to be able to address the health impacts of climate change.
A coalition of Deans from 30 medical, nursing, and public health schools have committed to that, and are meeting this week for a discussion at the White House. Schools range from Harvard, Yale and John Hopkins to a variety of state universities.
Climate Data Initiative
Last year, Obama also launched the Climate Data Initiative to bring this data to life for the public. Topic areas are food and agriculture, coastal resilience, water resources, ecosystems and now, health resilience. You'll find it here.
With all the misinformation floating around about the reality of climate change, he hopes the ability to visualize the actual impact on peoples' homes and neighborhoods will help convince them that climate change is an emergency.
Sea level rise: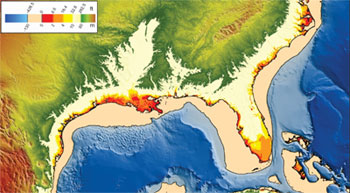 The idea is to help health professionals and communities more effectively plan, prepare, and strengthen resilience to the health impacts of climate change, says the White House.
And coders and researchers are asked to turn the data into tools, apps and other methods to bring the information to peoples' fingertips under the Climate Change and Health Data Challenge. It kicks off on June 6 as part of a National Day of Civic Hacking!
Read the laundry list of initiatives:
Website:
[sorry this link is no longer available]
(Visited 3,349 times, 4 visits today)