The Sierra Club's Beyond Coal campaign has been so successful at shutting down coal plants that Bloomberg Philanthropies is donating another $30 million on top of its initial $50 million grant.

The goal is to replace half the US coal fleet with renewable energy by 2020 – and locked in by the end of 2017.
Not only have they blocked construction of 153 new coal plants, they have shut down 23% of the US coal fleet – either closed now or scheduled to close. 187 down (78 GW) and 336 (265 GW) more to go, according to Sierra Club's tracker.
The initial goal was to close a third of US coal plants by 2020, beginning with the oldest and dirtiest. The biggest polluter in New England will close in 2017, for example.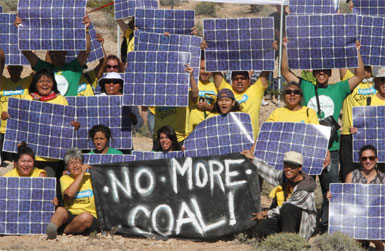 "Coal is a self-inflicted public health risk, polluting the air we breathe, adding mercury to our water, and the leading cause of climate disruption," says Michael Bloomberg. Bloomberg is raising another $30 million from about a dozen philanthropies.
Coal now supplies about 38% of electricity, down from 52% in 2011.
The US cut emissions 7.7% since 2006, with closing coal plants a major contributor. Emissions have been edging up again because of fracking.
If Beyond Coal meets the goal of shutting down half of US coal plants, we will cut mercury emissions 90% and exceed President Obama's climate target of cutting emissions 28% by 2025.
In addition to using grassroots organizing and litigation to close coal plants, Sierra Club helps impacted communities to transition to clean energy.
"The coal industry has had a tight grip on US energy policy for decades, with devastating consequences for both public health and our environment. Overreliance on fossil energy is also keeping solar and wind out of the market, delaying the transition to a power grid fueled by cleaner energy sources," says Bloomberg Philanthropies.
The ultimate goal is to end coal burning no later than 2030 and replace those plants with renewable energy. Another goal is to keep the massive US coal reserves underground and out of world markets as part of Sierra Club's largest campaign in its 114-year history.
Read our article, Closing Coal Plants Don't Need Full Replacements, Thanks to Energy Efficiency.
Learn more at the Beyond Coal website.
Want to see where the closing/closed coal plants are? Here's a map:
(Visited 4,072 times, 36 visits today)