California's Governor Jerry Brown has done it again – he upped the ante on climate change in today's executive order.
California will cut greenhouse gas emissions 40% by 2030, below 1990 levels, making it possible to reach the ultimate goal of 80% cuts by 2050, he says.
These goals are the same as the European Union and are what's needed to keep temperature rise from exceeding 2 degrees C.
With California on track to reach 33% renewable energy by 2020, a cap-and-trade system that prices carbon, and strong incentives for cleaner transportation, "it is time to establish our next set of objectives for 2030 and beyond," said Brown in this year's inaugural address.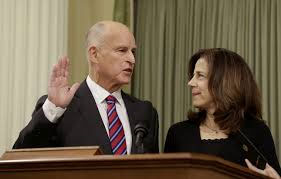 He also set these goals for 2030:
50% renewable electricity!
50% cut in petroleum use in cars and trucks
Doubled efficiency in existing buildings and use cleaner heating fuels.
Recently, Michael Picker, president of the California Public Utilities Commission said that getting to 50% renewable energy isn't much of a challenge and that the state's grid can handle 100%.
Research from Lawrence Berkeley National Lab shows that 40% lower emissions are achievable by 2030 at minimum.
"We must also reduce the relentless release of methane, black carbon and other potent pollutants across industries. And we must manage farm and rangelands, forests and wetlands so they can store carbon. All of this is a very tall order. It means that we continue to transform our electrical grid, our transportation system and even our communities," said Brown in his inaugural address.
Climate Adaptation
With California's searing drought, climate adaptation is clearly a central issue. The executive order directs state government to:
Incorporate climate change impacts into the state's Five-Year Infrastructure Plan
Update the Safeguarding California Plan – the state's climate adaption strategy
Factor climate change into state agencies' planning and investment decisions
Implement measures under existing agency and departmental authority to reduce greenhouse gas emissions.
(Visited 2,628 times, 4 visits today)