Last week an exhibit opened that showcases Native American efforts to preserve farming techniques that have allowed them to flourish during droughts for thousands of years.
As the US southwest dries out, it is crucial this information is passed on, say the organizers. "Preserving Our Seeds and Farmer Knowledge" also shows how to protect their ancient crops from GMO contamination.
The exhibit honors six years of work by 12 Colorado Plateau tribes to make sure traditional farming and ancient food preparation practices, as well as tribal teachings and stories key to adapting to climate change, are passed on to the next generation, reports Indian Country Today.
Growing corn doesn't have been water-intensive: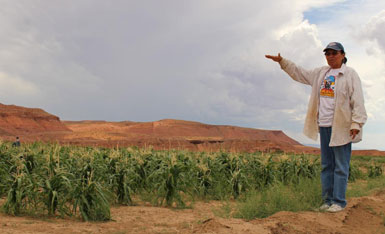 In "Hopi agriculture, we're seeing climate change on a scale that I never thought I'd see … that will greatly impact the way we grow and produce and self-sustain," farmer Leonard Selestewa told Indian Country Today.
"Our young farmers are totally confused by rising temperatures, drying springs, volatile wind patterns, and genetically modified seeds invading our communities. Our best chance at survival is to preserve our ancient knowledge," says Tony Skrelunas, who is facilitating the program.
Besides mentoring farmers on growing practices, they have local "planting parties" to preserve heirloom seeds, restore watersheds, build rainwater catchment systems and plant crops to be sold at local farmers markets, which they also create.
Monthly workshops on these topics begins March 25 and the exhibit runs through September 31 at the Colorado Plateau Intertribal Learning Center in Tuba City, Arizona.
Learn more:
(Visited 3,738 times, 54 visits today)