Now that Sonoma County, California has formed its own utility – to expand renewable energy faster – they are turning to floating solar for the largest project so far.
Residents value their open, rural land and don't want it covered over, but they do have sewage treatment ponds where they plan to put 12.5 megawatts of floating solar PV.
Local developer Pristine Sun will finance and build solar arrays on six recycled wastewater ponds, powering 3000 homes when it's finished next year. The company is leasing water surface rights from the local water agency, giving them another revenue stream.
After launching about a year ago, Sonoma Clean Power has already attracted over 160,000 residential and commercial accounts across five municipalities in the county. Following Marin County's lead, the goal is to develop renewable energy projects and then aggregate energy purchases for participating municipalities. Utility PG&E delivers the power and maintains the grid.
"We know it's hard to get big solar projects in Sonoma County. You get pushbacks on aesthetics and the taking of agricultural land. We took a look and said 'Where else can we put solar?,'" Cordel Stillman, deputy chief engineer at the Water Agency, told The Press Democrat. If this project works out, you'll find arrays across the county.
Next door in Napa Valley, Far Niente winery has a 1000-panel floating array on its irrigation pond that produces 250 kilowatts – about half its power (see photo below). In super-dry California, floating arrays prevent some evaporation from ponds as well as prevent algae buildup.
Floating panels can also easily track the sun and the cool water underneath increases their efficiency.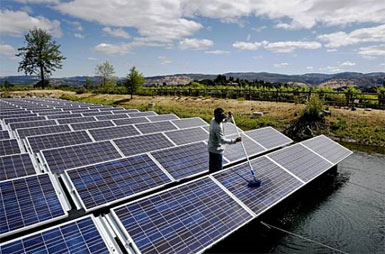 Meanwhile, Solar Power Power Inc. plans to build over 50 MW of floating in California, Arizona, New Mexico, Texas and across the border in Mexico. The joint venture with Aqua Clean Energy Fund will place solar platforms on reservoirs, quarry lakes, irrigation canals and remediation ponds.
The technology got its start with the Far Niente winery and can now be found in Japan, Britain, Italy, and soon, in Singapore and India. South Korea says it will cap 5% of all water surfaces with it to provide 4 gigawatts of power. South Australia's first utility-scale project comes online next month and will power a wastewater treatment plant.
Read our article, Solar Floats On Water Around the World and see some of the floating projects here:
(Visited 6,348 times, 7 visits today)