by Rona Fried
Here's the latest on Green Bonds, a trend that makes me optimistic about facing our climate challenges.
The World Bank announced its biggest and longest duration Green Bond to date, a $600 million fixed-rate 10-year bond.
Bought by investors such as Blackrock, Deutsche Bank and Nippon Life Insurance Co., the World Bank has issued nearly $8 billion in 80 green bonds since 2008. Available in 18 currencies, the bonds support renewable energy and energy efficiency projects, waste management and agricultural technologies that reduce greenhouse gas emissions, forest and watershed management, and infrastructure that prevents climate-related flood damage.
"We are grateful to the investors, banks, issuers and other participants who are working together to help expand this market and support an objective that benefits all of us," says Doris Herrera-Pol, Global Head of Capital Markets at the World Bank.
In January, the Oslo Stock Exchange began listing green bonds. "Green finance is a preferred option for many investors. An increasing number of them want to invest in green projects. We want this new list to draw attention to green investment choices," says Bente Landsnes, CEO of Oslo Børs.
Out of the $1 billion issued in January, SunEdison's yieldco TerraForm Power, issued $800 million of that in a 5.88% fixed rate, 8-year junk bond. Proceeds will be used to buy First Wind, service debt and develop new solar and wind projects.
Standards for Green Agriculture Bonds and Green Forest bonds are expected to be finalized by June, and Water bonds by year-end.
"There's an urgent need for investments that help reduce deforestation and help with climate change adaptation in vulnerable agricultural areas. This is especially important as food crops are already being affected by climate change, contributing to global food price volatility. The right kinds of investment in agriculture also have the potential to help sequester enormous amounts of carbon," says Sean Kidney, CEO of the Climate Bonds Initiative.
2014 Green Bonds
In 2014, Green Bonds reached a record $36.6 billion, more than triple the previous year ($11 billion), and many expect the market to hit $100 billion this year. 73 different issuers released bonds last year, with more development banks participating, and with corporations and municipalities entering the market. All were over-subscribed.
There were also a greater variety of bonds, ranging from AAA to BBB, and with a range of interest rates. 11 US states and Ontario issued municipal green bonds.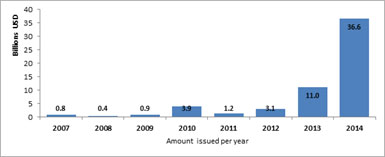 Top issuers:
European Investment Bank: $5.6 billion in "Climate Awareness bonds."
German Development Bank KfW: $3.5 billion
GDF Suez: largest corporate bond at $3.4 billion is divided between renewable energy and energy efficiency projects.
World Bank: $3.1 billion
Toyota: $1.75 billion
French Development Bank AfD: $1.3 bilion
Iberdrola: $1 billion
Bond proceeds are financing a wide range of climate mitigation projects, such as: geothermal energy in Indonesia; giving efficient light bulbs to the poor in Mexico; cleaning up a superfund site in Massachusetts; financing solar and wind farms; loans for hybrid car buyers (Toyota); green building retrofits; restoring rivers and waste water treatment plants.
Three Green Bond indexes launched in 2014, providing a way for the bonds to go mainstream: S&P Green Bond Index; Bank of America; Barclays Bank and index creator MSCI.
$300 billion a year in investments is needed to bridge the gap on climate mitigation that would keep us below a 2C temperature rise, according to a report from HSBC. If even a fraction of the $80 trillion bond market moved to environmental finance, it could tip the scales in the climate fight, says Angus McCrone, Chief Editor for Bloomberg New Energy Finance.
Learn about the standards for Green Bonds.
Here's a list (that will be continually updated) of the 300 Green Bonds issued to date:
(Visited 6,345 times, 5 visits today)