What if companies set aside 5% of annual profits to meet the challenges of climate change and poverty?
That's what Jeremy Leggett, CEO of UK-based SolarCentury is asking. Since he proposed the idea of a 5% For-Climate-and-Development Club, some of the biggest corporations are showing interest without being solicited, he says.
This Club "would be a huge prize: one capable of building a whole new type of capital in the world, a potentially huge pool of it, all dedicated to social good," says Leggett.
It seems there's pent up demand from corporations that are just as frustrated as anyone about the lack of action on climate change. When GW Bush was President, many of the most iconic US brands came together to pressure him to address the crisis.
For one thing, it would turbo-charge SolarAid – the nonprofit he founded – that's become the leading group bringing solar lighting to Africa.
"We believe that universal access to renewable energy is the best way to alleviate poverty and combat climate change," says SolarAid. Its goal is to replace every kerosene lamp in Africa by 2020. SolarCentury donates 5% of profits to SolarAid.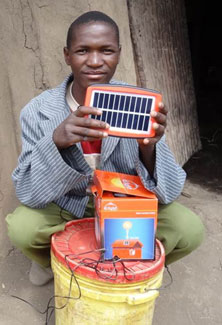 The group has sold 1.4 million solar lights, but still only operates in four African countries. There are 249 million more kerosene lamps to get rid of, says Leggett in his Indiegogo crowdfunding campaign, where he's trying to raise $400,000 for SolarAid.
"We all know the power of story telling. This potentially amazing story would help solve a global injustice and embody a new era of the possible, giving us a weapon against those incumbents who say low-carbon poverty reduction is expensive or impossible," he says.
SolarCentury built the amazing solar bridge that spans the River Thames in London.
Learn about SolarAid:
(Visited 3,586 times, 7 visits today)