An new approach to conservation launches today, the Regional Conservation Partnership Program.
The idea is to improve habitats and the local environment using a regional approach, spanning public and private land, with funds coming from the public and private sectors.
The Department of Agriculture is kicking it off with 115 projects across all 50 states with $370 million in funding. Partners are contributing $400 million, bringing the total close to $800 million. Projects will improve wildlife habitat on private lands, and help farmers and ranchers fight droughts by resuscitating the soil, improving water practices and protecting drinking water supplies.
Over 600 project proposals were submitted last year.
"As venture capitalists provide financial resources to burgeoning, high-potential growth startups, USDA must lead in a new venture conservationist movement that empowers and launches high-opportunity startup partnerships that deliver locally-led conservation solutions," says Jason Weller, Chief of USDA's Natural Resources Conservation Service, which is leading the initiative.
The agency uses a competitive process to select projects, designed by local partners specifically for their region. Partners can be private companies, universities, non-profit organizations and local and tribal governments. Not only will they invest money, but they provide peoplepower and materials to get the job done.
Over the next five years, USDA's $1.2 billion (approved in the Farm Bill) will be matched, bringing $2.4 billion to conservation in the US.
We've often said Restoration will be one of the big, new job opportunities of this century, as we strive to clean up the mess our society has unwittingly created. 660,000 people work in the field already, according to the National Fish and Wildlife Foundation. Healthy ecosystems boost tourism and recreational activities, providing a hard-to-beat 6.1 million direct jobs, $80 billion in federal, state, and local tax revenue, and $646 billion in spending each year.
Projects selected this year are in these regions:
Mississippi River Basin
Colorado River Basin
Longleaf Pine Range
Columbia River Basin
California Bay Delta
Restoring ecosystems is also becoming a key strategy for becoming more resilient to climate change.
Example: Golden-winged Warbler in Midwest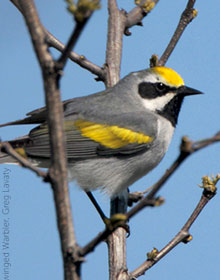 One project will improve key habitat for the imperiled Golden-winged Warbler, keeping it off the Endangered Species List, and helping many other species like moose, Canada Lynx and northern log-eared bats – which are about to go on the Endangered Species List because of white-nose syndrome.
A partnership between the Natural Resources Conservation Service and American Bird Conservancy will improve forest management on 12,000 acres of forests, supplemented by ABC's nonprofit partner efforts on another 52,000 acres of public and private land in Michigan, Minnesota, and Wisconsin.
Technical support will be provided to private landowners within the forested areas, helping them improve timber practices to restore forests.
The warbler, which requires forested landscapes that vary in age, is experiencing one of the steepest population declines of songbirds – 3% a year for the last 40 years. The largest remaining breeding population is in the Great Lakes; this project will make it possible for 16,000 more songbirds within four years.
To give you an idea of the many supporting partners: US Fish and Wildlife Service and Forest Service; Tamarac National Wildlife Refuge; Rice Lake National Wildlife Refuge; Minnesota Department of Natural Resources; Woodcock Minnesota; Beltrami County, MN; The Conservation Fund; Wisconsin Department of Natural Resources; Chequamegon-Nicolet National Forest; Ruffed Grouse Society/The American Woodcock Society; Wisconsin Woodland Owners Association; Wisconsin County Forests Association; Wildlife Management Institute; The Forestland Group; Pheasants Forever; National Wild Turkey Federation; Michigan Department of Natural Resources; Louisiana-Pacific Corporation; Michigan Tech University; Indiana University of Pennsylvania Research Institute; Michigan Department of Agriculture and Rural Development; and the Sustainable Forestry Initiative.
Read our articles, One-Third of US Bird Species Threatened and Historic Collaboration to Restore World's Ecosystems.
All the projects are on the Regional Conservation Partnership website:
(Visited 6,016 times, 4 visits today)