An entire city in Mexico will soon be getting all its electricity from solar energy.
La Paz, in the Baja region (where there's 50% more sun intensity of San Diego), shut down a polluting thermoelectric plant because two solar plants are replacing it.
The first – the only utility-scale solar plant in the country – is online, Aura Solar 1. This year, Grupotec 1 starts operating. They are both 30 megawatt projects, taking up about 144 acres combined.
They will send electricity to the local utility under a long term power purchase agreement that says it will be sold at the same price as "the current local cost of generation by two diesel thermoelectric plants."
Amazingly, Aura Solar 1 can generate 82 gigawatts of electricity a year because of the intense sun there, supplying 162,000 people. The $100 million project consists of 131,800 tracking PV modules on 100 acres.
You can see La Paz at the bottom of the Baja Peninsula – the solar projects are next to the airport. Besides reducing fossil fuel emissions and cleaning the air, it will halt the logistical dangers of importing and transporting hydrocarbons through environmentally protected areas such as the Sea of Cortes, recognized by UNESCO as a World Heritage Site.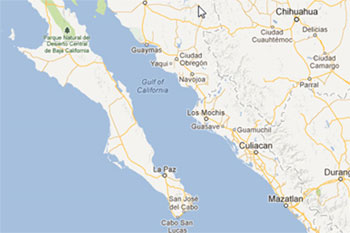 Read our article, Mexico Unveils National Climate Change Strategy.
(Visited 5,932 times, 47 visits today)