Recently we wrote that carbon emissions can be significantly reduced through the widespread application of compost, and now California is providing incentives for ranchers to do it.
They can get tradable greenhouse gas emission reduction credits, bringing them another revenue stream for sustainable land management practices that also improves the soil and its ability to hold water.
Ranchers can sell them on California's Greenhouse Gas Reduction Exchange (GHG Rx), where polluters buy credits to be used in projects that benefit the state. So, ranchers can now benefit from the state's cap-and-trade program.
Research at University of California/ Berkeley shows that compost applied to 5% of the state's grazing land would store a year's worth of emissions from conventional farms and forestry operations there. If that's increased to 25% of grazing land, the soil would absorb 75% of California's total annual emissions.
A similar program is launching on the national level under the USDA. "Carbon farming" ranchers can generate revenue by simply leaving grasslands undisturbed. The more carbon in their soil, the more carbon credits they generate, which corporations buy to offset their emissions.
Prairie Pot Hole Region, North Dakota: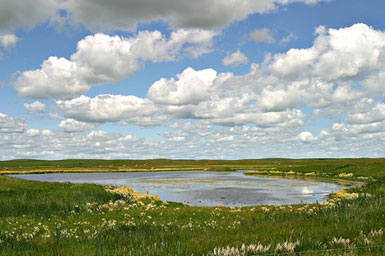 In 2011, Australia's Parliament passed legislation creating the world's first nationwide system for carbon credits from farming and forestry industries. There's also a program for small farmers in Kenya.
Learn more about California's program:
(Visited 5,311 times, 7 visits today)