Since the International Renewable Energy Agency (IRENA) – formed in 2009 as the first (and only) intergovernmental organization focused on building the industry internationally, we've been impressed by their creativity and leadership.
In just five years, they have amassed a knowledge base on statistics and trends in every segment of the industry worldwide, which is now freely available through a new website, REsource.
"The rapid growth of the renewable energy industry outpaces the information available to monitor and analyse the sector," says IRENA. "To date, renewable energy information has been scattered, and is perceived as less accessible, less detailed and less accurate than the information on conventional energy. This lack of information has created a falsely uncertain environment for investors and fuelled misperceptions in public opinion. Our goal is to support improved decision-making, increase awareness and investor confidence, and accelerate the adoption of renewable energy technologies. REsource is an essential tool we hope policy-makers, journalists, researchers and the private sector will make extensive use of."
Using REsource, you can search for information by technology (solar, wind etc), country, and you can create graphs that clarify trends in the Data and Statistics section. Search results include statistics, policies, the costs and benefits of the various technologies, and financing methods.
You can find out how many people worldwide work in renewable energy (by segment and country), view country profiles, and how much of a country's energy mix various renewables have the potential to supply, for example.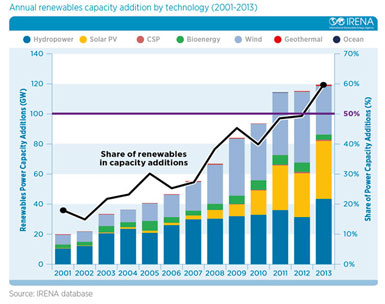 How IRENA works
Headquartered in Abu Dhabi, IRENA's membership consists of 138 countries and the European Union. In addition to producing reports and holding an annual conference, IRENA works with governments to help them adopt policies that encourage investments in renewable energy, and facilitates knowledge sharing and technology transfer to accelerate renewable energy deployment.
All the of Agency's information and data is now available through REsource, which was launched this week at IRENA's Fifth International Assembly in Abu Dhabi.
Check out REsource:
Website:
[sorry this link is no longer available]
(Visited 4,149 times, 7 visits today)