On the eve of President Obama's State of the Union address, where he is widely expected to focus on income equality (raising the minimum wage, tax reform and free community college), Oxfam International released a report that illuminates the problem.
In less than two years, the top 1% will own at least half of the world's wealth, concludes Wealth: Having It All and Wanting More. They own 48% now and mostly live in the US – where their out-sized lobbying efforts are reflected in our unnecessarily complex and lengthy tax code teeming with their loopholes.
It comes down to 80 individuals owning the same wealth as the poorest 3.5 billion people.
"Quite frankly, a lot of us thought that by buying politicians, rewriting tax laws, and hiding money overseas, we were getting it done," says satirist Andy Borowitz, mimicking what a hedge fund manager might say. "If, at the end of the day, all we control is a measly half of the world's wealth, clearly we need to do more-much more."
The yawning gap isn't just morally obscene. Coupled with climate change, these trends threaten global stability and even the very survival of humanity, says Oxfam.
They recommend:
Clamp down on tax dodging by corporations and rich individuals
Invest in universal, free public services such as health and education
Share the tax burden fairly, shifting taxation from labor and consumption toward capital and wealth
Pass minimum wage legislation that moves towards a living wage for all workers
Pass equal pay legislation and economic policies to level the field for women
Ensure adequate safety-nets are in place for the poor, including a guarantee of minimum income
Agree on a global goal to tackle inequality.
The report is timed with the World Economic Forum in Davos, Switzerland which, to her surprise, Oxfam Executive Director Winnie Byanyima has been invited to co-chair. She will call for a World Tax Summit in 2015 that "sets the basis for a permanent body to set, implement and arbitrate fairer international tax rules."
State of the Union Address
On the one hand, President Obama will focus on helping the middle class out of the funk it's in, but on the other hand, he is forcefully pushing for massive trade deals that would increase job loss and income inequality.
The Trans-Pacific Partnership and Trans-Atlantic Trade and Investment Partnership would both vastly increase corporate power, weakening anything in the way of profits – health, safety, labor and environmental standards.
Obama will also talk about climate change and what he's doing about it. Nicole Hernandez Hammer will sit with Michelle Obama, she's a climate scientist and leads the Florida chapter of Moms Clean Air Force.
On January 28, 12 people who crossed the US as part of this fall's Great March for Climate Action have been selected to meet with top aides to the White House – Dan Utech, Special Assistant to the President for Energy and Climate Change, and Rohan Patel, Special Assistant to the President and Deputy Director of Intergovernmental Affairs. They say they will discuss the Keystone pipeline, wind and solar tax credits, and the urgent need to move away from fossil fuels, including natural gas.
Meanwhile, the Center for American Progress released yet another poll that shows a large majority of Americans want:
a BALANCED energy policy that addresses energy independence while better protecting public health, public lands, and clean drinking water;
a CLEAN energy policy that promotes innovation and manufacturing jobs while speeding the transition to renewable forms of energy.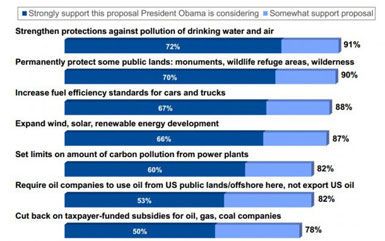 They are against weakening protections for drinking water and clean air, selling off public lands, and allowing drilling on highly valued recreation lands.
So, why did they vote the party in which is hell bent on implementing everything Americans oppose?
Here's the poll:
Website:
[sorry this link is no longer available]
(Visited 2,878 times, 1 visits today)