The National Hockey League is the first major sports league to commit to going carbon-neutral, by reducing its emissions and buying credits for the rest.
After producing the industry's first Sustainability Report this year, that quantifies its footprint, it is working on lowering greenhouse gas emissions from energy, waste and procurement at all 30 North America arenas … and, of course, conserving water.
"In this report, we put forth our first carbon inventory, which details the greenhouse gas emissions associated with the many facets of our operations, including energy and water use, waste and travel. We acknowledge that NHL hockey games are energy intensive. We also acknowledge that the geographic locations of our Clubs require a substantial amount of travel over the course of a season. Like the other professional sports, these business operations affect the air we breathe and our supplies of clean, fresh water. We are determined to address these environmental challenges without sacrificing the integrity of our game," says the introduction to the Sustainability Report.
Electricity use accounts for 75% of the league's carbon footprint, making efficiency upgrades and adding renewable energy at arenas a priority. NHL will work with each team to reach specific greenhouse gas reduction targets by expanding on existing programs that include demand response, efficient lighting and on-site solar. They also recycle, compost, donate excess food, and plant trees ("Pucks for Parks") among many other initiatives. The 2011 Stanley Cup Final was the first "water-neutral" series for the NHL.
The League is also buying Renewable Energy Certificates (RECs) and Carbon Offsets to match its carbon footprint for the 2014-2015 season – 550,000 metric tons from travel, operations and consumption of goods. RECs will finance solar and wind farms.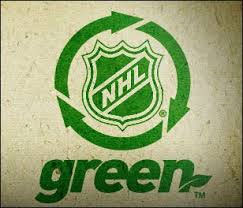 An important goal is to convey the importance of environmental stewardship to fans, which they plan to do at major events next year, including the 2015 Stanley Cup Playoffs. Their website, NHL Green, features their greening efforts, and offers green tips for fans.
112 sports teams now do everything from plant edible gardens to build net-zero energy stadiums.
Visit NHL Green:
(Visited 3,623 times, 3 visits today)