by Rona Fried
Decades ago, there was a strong movement to get cosmetics and personal care companies to stop testing on animals and to eliminate toxics in their products.
But all this time later, we're still applauding when a company makes a change, in this case, Revlon.
Revlon announced it will remove some toxic chemicals from products – long-chain parabens and certain chemicals that release formaldehyde. And that's after receiving petitions signed by 100,000 people.
Just one more good reason to buy certified organic, cruelty-free products – no need to wait for toxics to be removed.
Long-chained parabens are endocrine disrupters – linked to breast cancer – and are used as preservatives in many products, from lotions to deodorants. Any product that contains the word paraben should be avoided, such as propylparaben, isopropylparaben, butylparaben and isobutylparaben.
Formaldehyde is also used as a preservative, and can be found under such weird names as DMDM hydantoin, imidazolidinyl urea, diazolidinyl urea and quaternium-15 on the ingredient list.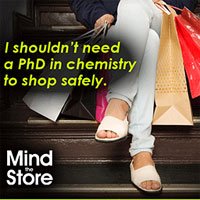 Also under pressure, Johnson & Johnson is removing some chemicals. Long ago, I remember L'Oreal (which owns Maybelline) was the worst, refusing to budge on animal testing even when many of their peers stopped it. They are currently the subject of a campaign on their use of toxic ingredients by the Campaign for Safe Cosmetics.
"Many of the chemicals L'Oreal uses have already been banned in certain countries, but the company continues to ship toxic formulas to countries with weaker regulations," they say.
This year, California opened its database to the public, where manufacturers must disclose any ingredients that are known or suspected to cause cancer, birth defects or other reproductive harm, under the California Safe Cosmetics Act of 2005. If an ingredient is listed there, it's toxic.
Last year, Europe's ban on cosmetics tested on animals went into effect, joined by India in May. China no longer mandates testing on domestically produced cosmetics but still requires tests on imported products. In US, the FDA doesn't require testing, but companies do it anyway.
Find out which companies still test on animals and which don't:
(Visited 4,821 times, 7 visits today)