One of the few areas where Republicans and President Obama may find common ground next year is in Fast-Tracking the Trans-Pacific Trade Agreement.

And the Cromnibus budget bill shows us the formula that will be used to get it passed, says Dave Johnson, at Campaign for America's Future.

All the poison pills, from the Citibank-written provision to allowing corporations to cut pensions and a big boost to big money in politics, wouldn't have passed if they had been in separate, fully debated bills.
And that's how Fast-Track will get through. It's currently under secret negotiations designed to craft an agreement that favors corporations – even above the laws of sovereign countries. For example, tobacco companies would be able to sue governments – in corporate court – if they attempt to implement anti-smoking initiatives.
Multinational corporations would be able to "protect their future profit potential" by suing cities, counties, states or countries to wipe out existing laws – those specifically designed to protect communities' best interests, but which get in the way of ultimate profits.
Called "NAFTA on Steroids," Obama wants the bill fast-tracked through Congress even before the details are known to its members and the public! That means Congress agrees to an up or down vote – no amendments and no debates.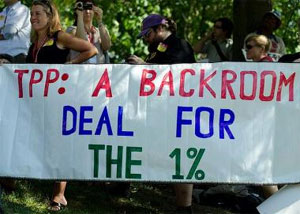 Here's the formula we should expect, says Dave Johnson:
Look at what happened with the budget. A massive, 1,600-page budget deal was negotiated in secret, and announced 51 hours before the shutdown deadline. The debate was about stopping a shutdown, instead of what was in the bill.
Congress had to vote on it right away, or the government would shut down. There was no time for Congress to even read the 1,600-page agreement, let alone fix anything. There certainly was very little time to rally opposition to items in the agreement.
Lessons learned about how to rig a legislative process:
Control who's at the table. Republican and Senate leaders negotiated the deal, but significantly, House Minority Leader Pelosi was not included.

Leave little time for analysis. Announced at the last minute, Congress was ready to vote by the time people figured out what was in the 1,600-page bill.
Make it about the deadline, not substance. The debate was about whether the government would shut down, not whether to vote against the Citibank and other poison provisions.
But special interests served by the deal had time to prepare their push-through strategy in advance.
Make it all or nothing. The bad provisions couldn't be removed with killing the deal and there was no time to start over.
Big corporations are gearing up right NOW to launch a massive PR campaign when the Trans-Pacific Partnership is ready. They will spend millions to ramp up the pressure on the scale of the "run up" PR campaign to launch the Iraq war. But potential opponents will only see the treaty after it is done. 90 days isn't enough time to read it, evaluate it, analyze the potential consequences of obscure provisions, and then if necessary get the word out to rally forces and build public pressure against it.
So passing fast track is really about pre-approving the Trans-Pacific Partnership, before they ever even see what's in it. Just like we didn't know what was in the Cromnibus until it was too late to do anything about it.
Read our article, Trans-Pacific Partnership Could Move Quickly in Congress.
Learn more at No Fast Track:
(Visited 4,786 times, 3 visits today)