You wouldn't expect the world's largest motorcycle manufacturer to have a "garden factory," but Hero Motocorp just opened one of many planned in India.
Designed by iconic green architectural firm William McDonough + Partners, it demonstrates what they call "Octa-Generation." That means the building captures or generates eight things: electrical energy, heating, cooling, water from the air, carbon dioxide for rooftop greenhouses, food, jobs on the roof, and air quality for people working in the building.
It's been awarded LEED-Platinum from the Indian Green Building Council, with the highest scores for any factory. It combines a 1.5 megawatt solar system, extensive daylighting, a green roof and rooftop greenhouses. An interior 'bio-wall' of vegetation filters indoor air.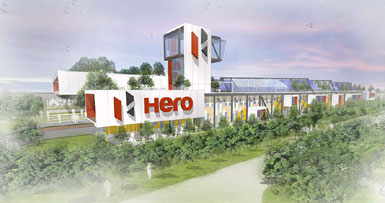 "We believe in giving back to the environment as much as we take from it. And that is why Hero has kept the green concept in focus while building this 'Garden Factory'. As leaders in the automotive industry, we fully realise our responsibility as an opinion leader in the fast changing industrial environment. With the knowledge that a cleaner, pollution-free environment is the only way forward, we are ushering in an era of change. Today, we are living up to that commitment by unveiling the first of our 'Green Concept' manufacturing unit which will serve as a template for our upcoming production facilities to replicate," says Pawan Munjal, CEO of Hero MotoCorp.
McDonough is also leading the design teams for Hero Motocorp's new solar-powered Research & Development Center, which opens next year.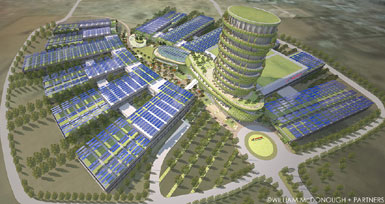 Hero Motocorps parent, Hero Group is involved in many industries, from IT to real estate, and its latest venture is Hero Future Energies, where it plans to develop 1 gigawatt of solar and wind energy by 2017.
You may know McDonough's work from Ford's Rouge Manufacturing Center – home to the largest green roof in North America – NASA's net-zero energy and water Sustainability Base – or Method's new factory that's topped by an urban farm in Chicago. Or you might know them for their cradle-to-cradle certification.
(Visited 6,598 times, 35 visits today)