After too many years of delays to count, the US is finally about to get our first offshore wind farm.
Deepwater Wind will start construction this spring now that it's received final state and federal permits. Don't get too excited – it's just five turbines near Block Island, considered part of Rhode Island.
To give you an idea of what these permits are: one is a submerged lands lease with Rhode Island. Deepwater will pay $150,000 a year for the right to anchor its turbines to the ocean floor. The other permit is federal – giving Deepwater the right of way for the transmission cable that carries the electricity to the grid on land.
The area is prime habitat for migrating right whales, which are extremely endangered, and Deepwater – in concert with environmental groups – came up with a way to make sure they are protected:
a traffic-light system of red (no construction allowed in early spring) yellow and green is based on when whales are likely to be in the area.
ships will be slowed to 10-knots from Nov. 1 through May 15 to prevent collisions
noise-reduction and attenuation technologies developed in Europe will be used
better surveillance measures will spot right whales – expert ship-based observers; restricted work at night and when visibility is low; and aerial surveillance.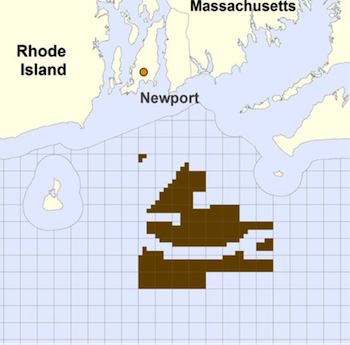 Maryland Offshore Auction
In August, the Department of Interior held its third auction for offshore wind leases, this time offering 80,000 acres off the coast of Maryland, an area which could power 300,000 homes (850-1450 megawatts).
It took 19 rounds of bidding for US Wind (subsidiary of Italy's Renexia) to win the entire lease for $8.7 million against two competitors, Green Sail Energy and SCS Maryland Energy.
Notably, the winning bid is much higher than the first two auctions, where winners bid just $1.6 million near Virginia and $3.8 million off the coast of Massachusetts.
The competition was more intense and resulted in much higher bids because Governor O'Malley got the first legislation passed in the US that subsidizes offshore wind. It offers developers up to $1.7 billion for a 200 megawatt (MW) project and higher prices for electricity once it starts producing.
Here's how ocean leasing works:
The winner has a year to submit a Site Assessment Plan for approval, which describes how it will measure wind resources in the lease area. If that's approved by BOEM, the lease has 4.5 years to submit a Construction and Operations Plan, which details the wind project. BOEM then conduct an environmental review of the project, which includes public input, and if it's approved, the lessee gets a term of 25 years.
Including this latest Maryland auction, 357,000 acres in the Atlantic Ocean have been leased for about $14 million. Last week, New Jersey regulators rejected Fishermen's tiny 5 MW wind project for the second time.
Leases awarded to date:
On January 29, 742,000 acres off the Massachusetts coast will be auctioned in the largest lease sale to date.
New UK Projects
Danish utility Dong Energy has been cleared to build a 700 MW offshore wind farm off the coast of England, to start operations in 2023. One of the countries biggest, it will power 500,000 homes.
This year, five offshore projects have been approved in the UK, which together will produce 4% of the country's electricity – powering 3 million homes – while creating 8500 jobs. The UK has 22 operational offshore projects with a capacity of 3.7 gigawatts, according to RenewableUK.
Read our article, DOE Announces Three Offshore Demo Wind Projects, Shooting For 35% of US Energy by 2050.
(Visited 55,093 times, 4 visits today)