Unity College in rural Maine has moved up as a sustainability leader on rankings issued by Association for the Advancement of Sustainability in Higher Education (AASHE).
It's one on of five colleges in New England to achieve the "Gold" level, and from what we can see, no school has yet reached the highest level, Platinum. The ranking covers every aspect of university life, from curriculum to research, operations to planning.
"We were the first college to divest from fossil fuels which spurred others to do so, one of the first signatories of the American College & University Presidents' Climate Commitment, and now we have made the commitment to become a truly carbon-neutral campus without the need to buy external carbon credits to make it appear that we are climate friendly," says Stephen Mulkey, President of Unity College.
They are not divesting from fossil fuels in their portfolio, they are divesting campus infrastructure from fossil fuels, with a goal of being carbon-neutral by 2020, they say.
The President's home is LEED Platinum and net-zero energy: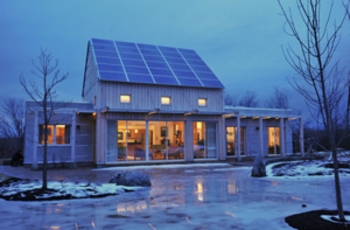 The college is the proud steward of the original 32 solar panels that President Carter put on the White House!
Sustainability is the core of Unity's curriculum, with courses like "The Environmental Citizen" and "Environmental Sustainability" required for every student, as well as Majors in Sustainable Agriculture, Sustainable Energy Management and Sustainability Science.
684 institutions have signed on to the American College & University Presidents' Climate Commitment, agreeing to:
Complete an emissions inventory
Set a target date with milestones to become climate neutral within two years of signing on
Take immediate steps to reduce greenhouse gas emissions by choosing from a list of short-term actions.
Integrate sustainability into the curriculum and make it part of the educational experience.
Make the action plan, inventory and progress reports publicly available.
See AASHE's profile of Unity College:
(Visited 3,037 times, 4 visits today)